Cloud contact center software is accessible from any place. People from all across the world may utilize the same technique to cover various critical time zones. Platforms with no physical presence boost staff satisfaction and productivity, which in turn boosts client loyalty. Since most call centers still use on-premise tactics that impede communication between the organization and its customers, a cloud-based contact center is highly recommended given its astonishing benefits.
Cloud Contact Center – Recent Statistics
According to Fortune Business Insights,
The market for cloud-based contact centers is predicted to increase at a CAGR of 22.7% between 2020 and 2027, from USD 13.45 billion to USD 56.37 billion.
In 2019, the market for cloud-based contact centers was worth USD 11.01 billion. The worldwide impact of the COVID-19 outbreak has been unprecedented and overwhelming, with demand for cloud-based contact centers plunging across the board. 
According to the analysis, worldwide market growth will be 22.1% lower in 2020 than it was between 2016 and 2019.
According to Markets and Markets,
The cloud-based contact center market is expected to reach USD 54.6 billion by 2027, up from USD 17.1 billion in 2022, at a CAGR of 26.1%.
What Are the Top Advantages of Using a Cloud Contact Center?
These astonishing benefits of having a cloud contact center over on-premises management will make you go wow!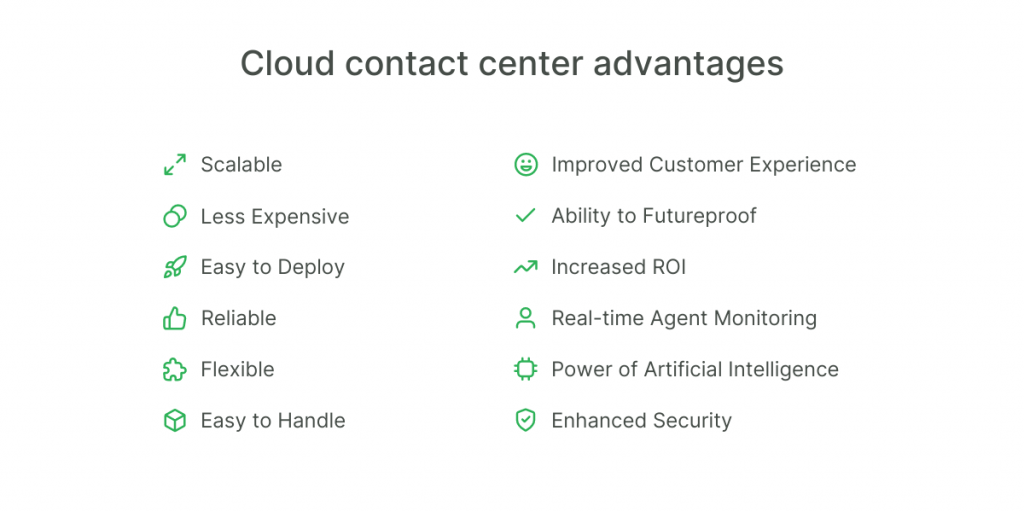 1. Scalable
Cloud contact centers are more scalable than on-premises solutions. This means that they can more easily handle increases in call volume, without the need for expensive hardware upgrades. With a cloud contact center, you can easily add or remove agents as needed. This is perfect for businesses that experience seasonal spikes in customer support volume. 
2. Less Expensive
Cloud contact centers are also typically much less expensive to set up and maintain than on-premise solutions. This is because they do not require the same level of hardware and software investment. 
Further Reading: How Cloud Telephony Systems Will Help Shape the Future of Businesses?
3. Easy to Deploy
Another benefit of cloud contact centers is that they are much easier to deploy and manage. This is because the cloud provider provides all of the necessary infrastructures.
4. Reliable
Cloud contact centers are more reliable than on-premises solutions. This is because they are not reliant on a single physical location or piece of hardware. When one system fails, another might take its place. Since the vendor manages the infrastructure, you don't have to worry about things like power outages or hardware failures. 
5. Flexible
Cloud contact centers are more flexible than on-premises solutions. This means that they can be easily customized to meet the specific needs of a business. For example, it is easy to add new features or integrate with other software applications. 
6. Improved Customer Experience
Cloud contact centers provide a better customer experience. This is because they offer features like omnichannel support and automatic call routing. These features help to ensure that customers always reach the right agent and that their calls are handled quickly and efficiently.
7. Easy to Handle
Cloud contact centers are also generally much easier to use and manage. This is because they come with built-in features and tools that make it easy to track performance and monitor agent activity. 
Editor's Choice: Automate your sales calls
8. Ability to Futureproof
The ability of cloud contact centers to prepare businesses for the future and keep up with competitor improvements may be their most significant benefit. Cloud-based customers are more likely to use artificial intelligence-powered services such as AI, which is employed by 49.8% of cloud contact centers against 25% of on-premises call centers.
9. Capability to Meet Customers Where They Are
Given the prevalence of interactive platforms such as Twitter, Facebook, and WhatsApp, customers expect to be able to contact businesses via their preferred channel. Customers may contact agents through whichever channel they like, as all of these channels are linked, allowing your company to reach customers no matter where they are and create long-term connections.
10. Increased ROI
A call center transformation may deliver savings that enhance return on investment. This is possible by correctly mixing IVR technology for simple contacts, AI virtual agents for more complex interactions, and human agents for the most difficult interactions.
11. Real-time Agent Monitoring
Many call centers are ditching physical sites in favor of the cloud. It begs the issue of whether inefficiency will be the result. There is little doubt that a transition is occurring, and the organization's ability to adapt is critical. Managers, on the other hand, may keep an eye on their agents in real-time and even intervene to assist them if required.
12. Power of Artificial Intelligence
More than on-premise contact centers, cloud-based contact centers can completely realize the promise of AI. A variety of AI models and third-party cloud services may be used to develop speech bots, voice analytics, AI-enabled virtual assistants, sentiment analysis, and even customer churn projections. 
To save money, these models mix supervised, unsupervised, and reinforcement learning and the training environment must always be hosted in the cloud. Cloud contact centers now have access to all of these benefits as a consequence of AI's adoption of a new contact center paradigm.
13. Enhanced Security
Cloud solutions offer significant security benefits. Hybrid cloud solutions, for example, enable organizations to store less sensitive data on the public cloud at a lower cost while preserving critical data in the private cloud. Furthermore, cloud solutions typically outperform on-premise systems in terms of disaster recovery.
Cloud contact centers offer several advantages over traditional on-premise contact centers. They are more scalable, reliable, and easy to use. They also often have lower upfront costs.
How to Implement Cloud Contact Center in your Business?
Here is a detailed process for how a cloud contact center can be implemented for your business's success.
#1 Evaluate Your Business Needs
The first step is to understand what type of customer service you need to provide and what your customer's journey looks like. This will help you determine which features you need from a cloud contact center solution.
#2 Research Different Providers
Once you know what you need, you can start looking at different providers. Check out the reviews and compare prices.
#3 Choose a Provider & Sign Up For a Free Trial
Once you've found a provider that meets your needs, sign up for a free trial so you can test out the features and make sure it's a good fit for your business.
#4 Train Your Employees
After you've selected a provider, it's time to train your employees on how to use the system. Make sure they understand all the features and how to use them to provide the best possible customer service.
#5 Go Live
Once everyone is trained and ready to go, switch over to the cloud contact center solution and start providing better customer service!
The Future of Cloud Contact Center
The future of cloud contact centers is very promising. This technology has already revolutionized the way businesses communicate with their customers. With the help of cloud contact centers, businesses can now provide their customers with a more personalized experience.
Overall, the cloud contact center is the future of customer communication. It offers a number of advantages over traditional on-premise contact centers and is very easy to use and manage.
Conduct Significant Vendor Research to Choose the Best Partner
Cloud service providers vary greatly, and not all cloud solutions are created equal. Choosing to use the cloud requires a major financial expenditure. You don't want to accomplish the migration just to discover that your vendor fell short of your expectations. 
You may need to undertake considerable due diligence to ensure that your new cloud vendor is a good match for your business both now and in the future.
Keep the following factors in mind while looking for reliable service:
Have they already worked with any other clients?
Are they consumers in your industry and size range?
Is their business stable?
What is their implementation strategy? Will it go well with yours?
How might post-implementation aid in manifestation?
Is there a reliable network of partners that can fill in the gaps if they are unable to satisfy your needs?
It will be a lot easier in the long run if you conduct some preliminary research.
How Effective is FreJun?
There are many benefits of using a cloud contact center, but one of the most important is how effective it can be. A cloud contact center can help businesses to improve their customer service by providing a more efficient way to manage customer interactions.
A cloud contact center can help businesses to save time and money by eliminating the need for on-site hardware and software. It can also help businesses to improve their customer service by providing a more efficient way to manage customer interactions. Also, a cloud contact center can help businesses to improve their sales and marketing efforts by providing a more efficient way to track and manage leads.
Keeping all of these essential business needs in mind, FreJun offers a notable platform to manage, maintain, and record business-related calls. It lets you get all the data in one place and makes things easier.
Are you looking for a product similar to FreJun for your business? Then connect with our experts and get a free trial right away!