Present-day businesses rely heavily on technology to handle their day-to-day operations. One such technology that has transformed the way these organizations conduct their business is cloud-based phone dialers. Cloud-based dialers are tools that allow you to make and receive calls over the Internet. The rise of remote work and virtual communication has made these software programs the go-to solution for businesses to stay connected with their customers 24X7. Many cloud-based phone dialers work in tandem with CRM to ensure that businesses can manage their customer data and call data in a single unified system. One such CRM is LeadSquared which offers plug-and-play integrations with several popular dialers. In this post, we will look at 9 such dialers integrated with LeadSquared which are not only efficient but also easy on your pockets.
1) FreJun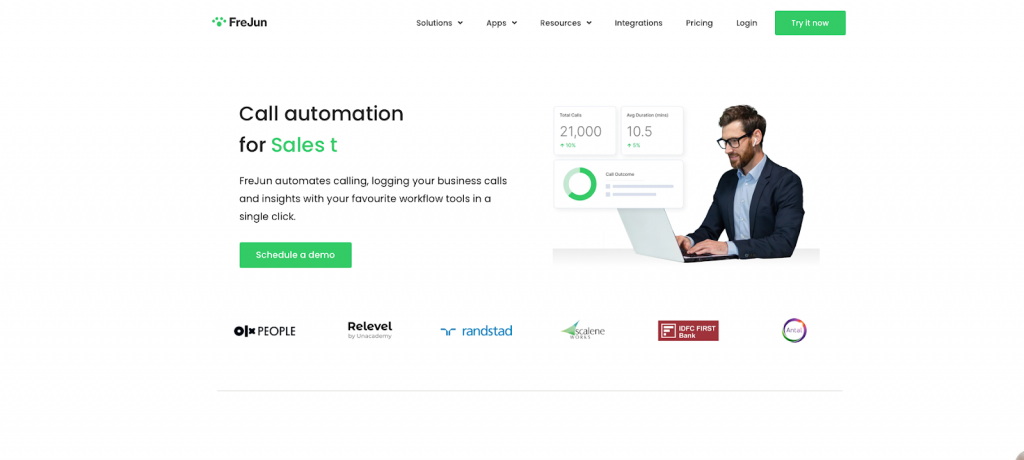 With a wide number of communication and collaboration features, FreJun takes the top spot on our list of top phones dialers integrated with LeadSquared. Whether you want to automatically call a list of numbers or gain advanced AI insights to improve your team's performance, FreJun has it all. When you combine FreJun with LeadSquared CRM, your entire contact system is automated so that your team can focus on selling. This powerful cloud-based phone dialer is also completely device-agnostic, which means dialer your team can make calls with a single click from any device of their choice.
Key Features – Call recording, auto-dialer, AI insights, analytics and reporting, call routing, and voice broadcasts.
Pricing – The most basic plan starts at ₹ 1,299 per user per month.
G2 Ratings – 4.9 out of 5
Check out our blog on Top 11 Call Monitoring Software for the Sales Team
2) JustCall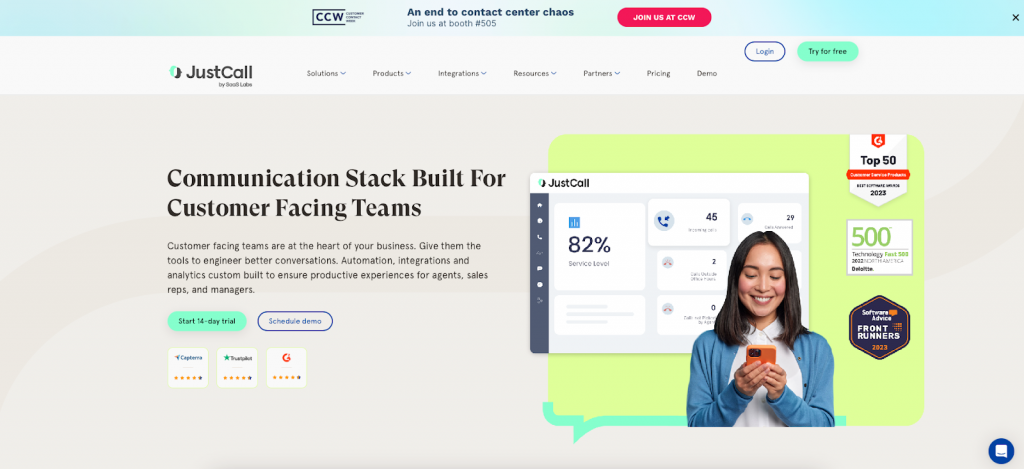 A smart automation tool and a robust sales dialer, JustCall is a popular choice among those businesses looking to convert their cold leads into warm ones. It can automatically capture incoming calls, missed calls, and voicemails and feed them as leads in your LeadSquared account. It's a must-have if your goal is to minimize time spent on manual dialling as all you have to do is upload contact lists and let JustCall dial the numbers for you.
Key Features – Call recording, live call monitoring, conversational intelligence, nurture pipeline, and ring groups.
Pricing – The most basic plan starts at $24 per user per month.
G2 Ratings – 4.3 out of 5
Further Reading: Top 11 Alternatives to Justcall
3) CallRail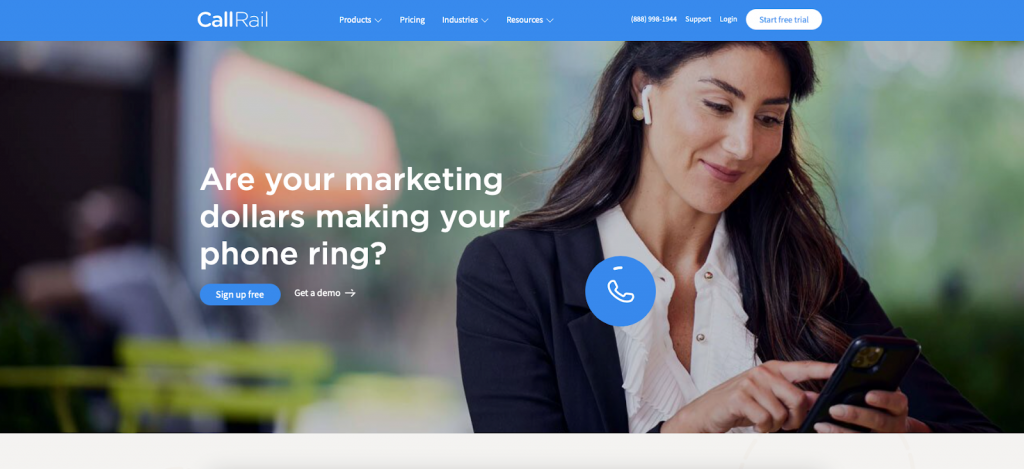 CallRail is another popular phone dialer that integrates effortlessly with LeadSquared and helps in converting leads to customers. The tool has numerous automation features that take care of most of the grunt work associated with calling. The insights offered by this tool are truly one-of-a-kind and enable sales managers to closely track the performance of the associates and reward or train them accordingly. This tool lets you have informed conversations that help in attracting the best leads to your business.
Key Features – Call tracking, form tracking, call recording, call transcripts, keyword analysis, custom form builder, and SMS.
Pricing – The most basic plan starts at $ 40 per month.
G2 Ratings – 4.6 out of 5
Check out our blog on Using AI To Analyze Sales Calls: Insights For Boosting Sales Performance
4) Ameyo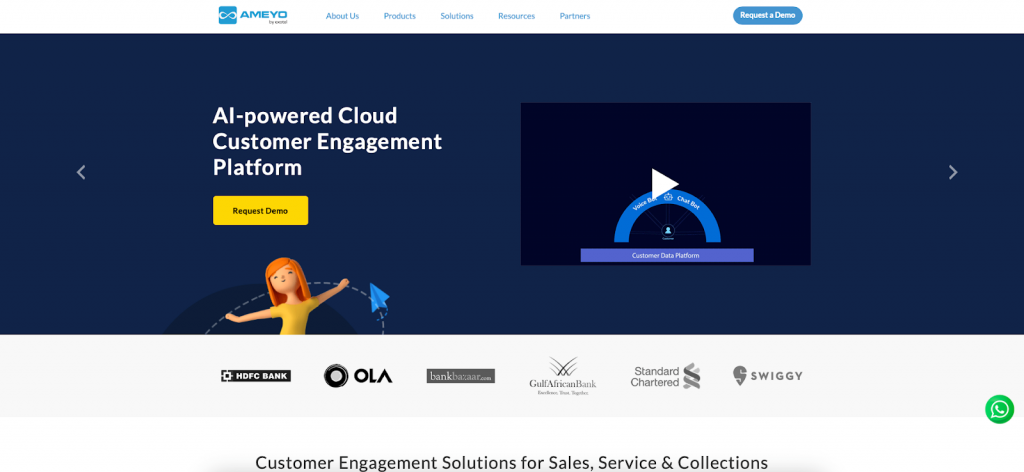 Even though Ameyo is more suited to call centres, it is equally helpful in managing sales conversations. Its automatic dialling process can easily power up your outbound customer interactions so you can enjoy better conversions. Once this dialer is integrated with LeadSquared, you can handle all call-related and lead activities in a single platform. No more switching of tabs or applications.
Key Features – IVR, automatic call distributor, auto-dialer, number masking, click-to-call, and unified agent desktop.
Pricing – Contact the Ameyo team for pricing details.
G2 Ratings – 4.3 out of 5
5) RingCentral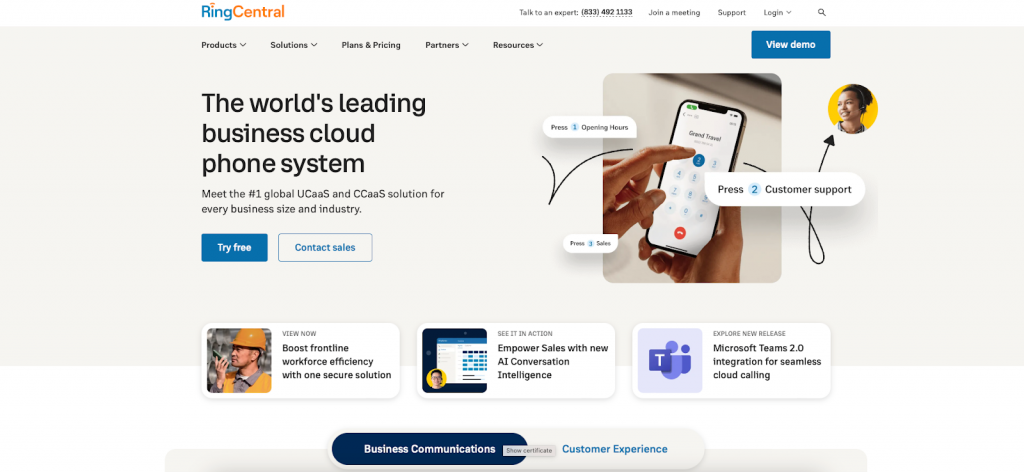 RingCentral is not only a powerful dialer but also quite effective in handling inbound calls. The tool can be instantly set up. You can add new phone numbers, devices, offices, and remote teams in a few clicks. It also lets you monitor the call quality, usage, and device status, and make instant decisions, thanks to customizable dashboards and real-time insights. Lastly, you can also flip calls between different devices in a single tap, making it ideal for teams who are always on the move.
Key Features – Extensions, call screening, call delegation, call flip, call park, and call forwarding.
Pricing – The most basic plan starts at $20 per user per month.
G2 Ratings – 3.9 out of 5
6) Intalk.io
This call centre dialer software is accessible from any WebRTC-compatible web browser. This eliminates the need to install any fancy applications or hardware on your premises. The inbuilt dialer of Intalk lets your team make multiple calls at the same time, ensuring that they can reach out to maximum leads in the minimum possible time. And once this platform is integrated with LeadSquared CRM, the capabilities of both platforms are multiplied, ensuring that you enjoy maximum ROI from your investments.
Key Features – Mobile application, WebRTC-based telephony, call management, automated dialers, automated broadcast, and call disposition codes.
Pricing – Contact the Intalk team for pricing details.
G2 Ratings – NA
7) astTECS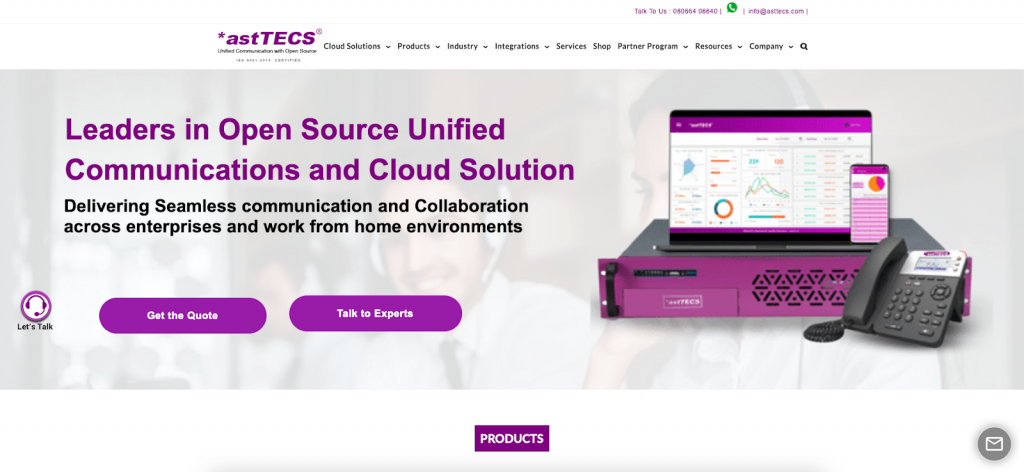 astTECS is an omnichannel contact centre solution that comes out of the box with several next-gen capabilities including a dynamic agent monitoring dashboard. This dialer empowers your business to be future-ready, flexible, and highly competitive at the same time. At the same time, it also considerably reduces your communication and collaboration expenses. It is also one of the few enterprises to offer both cloud-based and on-premise solutions to its customers.
Key Features – Click-to-call, number masking, call tracking, call recording, real-time reporting, IVR, and predictive dialer.
Pricing – Contact the astTECS team for pricing details.
G2 Ratings – NA
Further Reading: Best 11 Call Tracking Software In 2023
8) MCUBE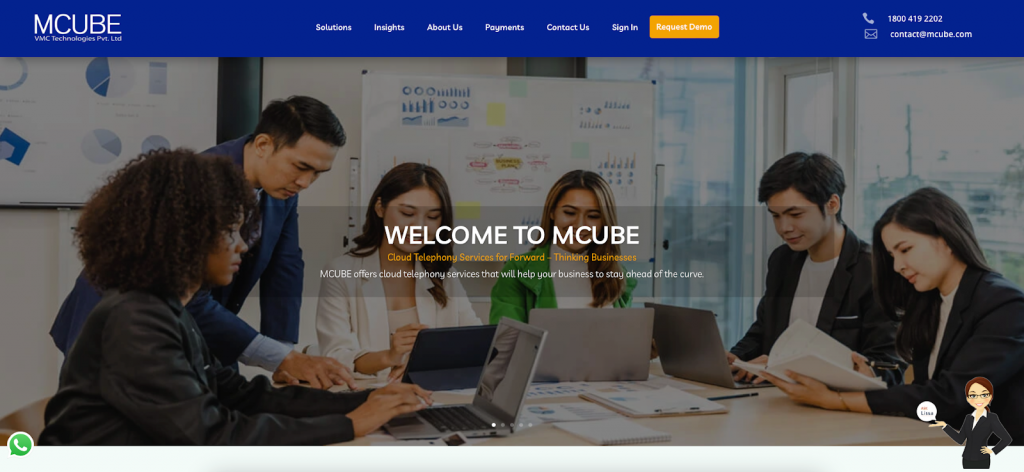 This home-grown cloud-based phone dialer is another omnichannel solution that allows your associates to work from anywhere without worrying about communication challenges. In fact, MCUBE comes with an advanced auto-dial feature that can be programmed to either dial numbers sequentially or randomly. And that's not even the best part. You can also configure it in such a way that it can automatically leave a pre-recorded message to the recipient in case they don't answer.
Key Features – Call tracking, call assignment, reporting, call routing, pre-recorded messages, automated dialling, and click-to-call.
Pricing – Contact the MCUBE team for pricing details.
G2 Ratings – NA
9) SparkTG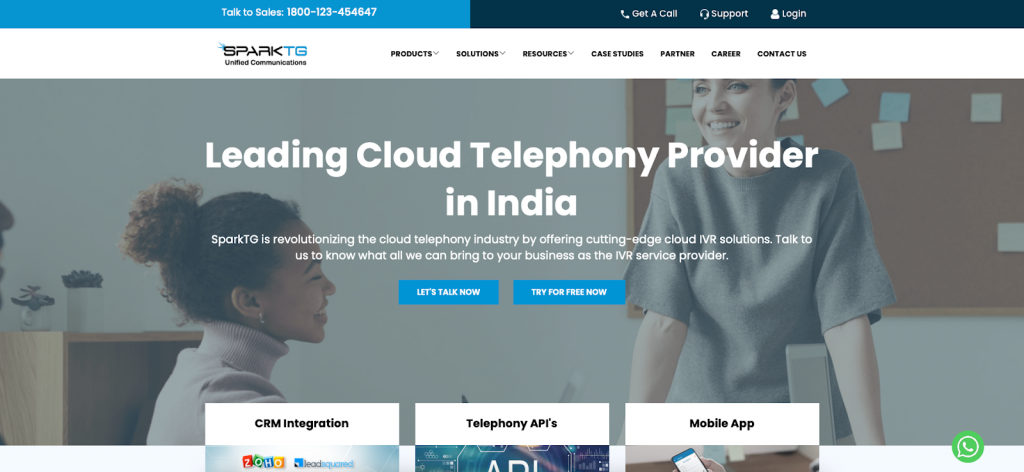 The last tool on our list of top phone dialers integrate with LeadSquared is SparkTG which is a cutting-edge IVR solution that also is also a robust cloud-based phone dialer. The tool is extremely flexible and offers multiple products for businesses of all sizes and all industries. It can be integrated with LeadSquared CRM to make calls directly from the CRM. Its rich feature set and a dedicated mobile app to handle everything related to communication and collaboration make it a great choice for those who want to streamline their communication process.
Key Features – Blended calling, real-time statistics, call reporting, call analytics, call monitoring, and multi-level IVR.
Pricing – Contact the SparkTG team for pricing details.
G2 Ratings – 4.5 out of 5
Check out our blog on How To Effectively Use Customisable Auto-Dial Software For Outbound Sales Teams?
Conclusion
And those are the top cloud-based phone dialers integrated with LeadSquared CRM. By combining both these platforms you can considerably enhance your sales team's efficiency and productivity. With a variety of affordable options available in the market, you can easily benefit from this piece of technology. By selecting one of the top 9 budget-friendly options we've listed in this post, you can achieve greater success in converting leads into loyal customers.
A business analyst turned writer who loves to paint away his free time. A staunch follower of the 'Workcation' concept, he loves to combine the art of writing with the enigma of traveling.