SIP (Session Initiation Protocol) trunking is a communication process that uses an application layer protocol to drive VoIP connectivity between PSTN(Public Switched Telephone Network) and on-premises phone systems. In simple language, SIP trunk lets you transition from your existing PBX network to an internet-driven network. Through SIP trunking, it is possible to make local and international calls with the help of the Internet, making this a great choice for businesses. In this post, we will take a close look at the 11 best SIP trunk providers in India that you can adopt to streamline your business communication.
1) FreJun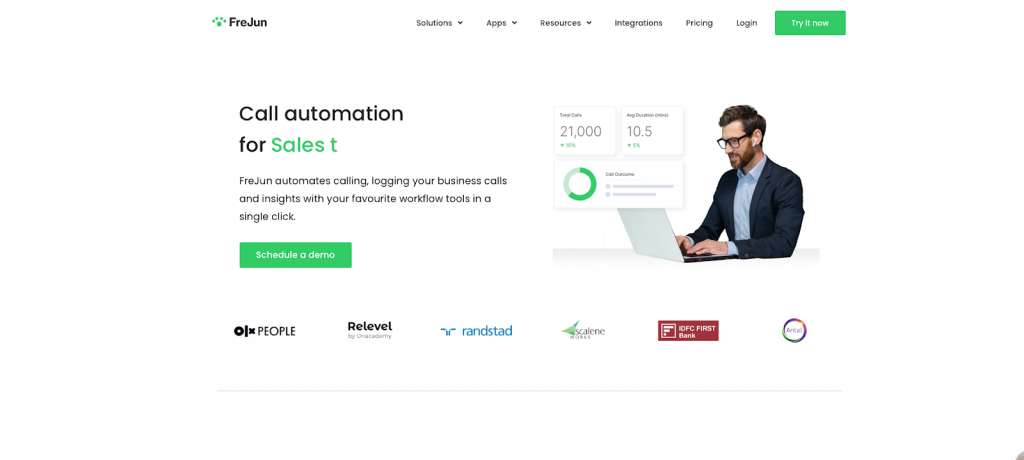 FreJun is India's leading cloud telephony software that has reinvented the way business communication takes place. Its reliable services supported by a strong focus on customer experience make it a great choice for businesses of all sizes. Right from day one, FreJun streamlines the communication infrastructure of your business and enhances the productivity of your employees. The platform is particularly known for its crystal-clear voice quality and powerful analytics engine.
Key Features – IVirtual number, click-to-call, auto-dial, voice broadcast, call routing, reports, analytics, and call recording.
Pricing – The most basic plan starts at ₹ 1,299.
G2 Review – 4.9 out of 5
2) Tata Teleservices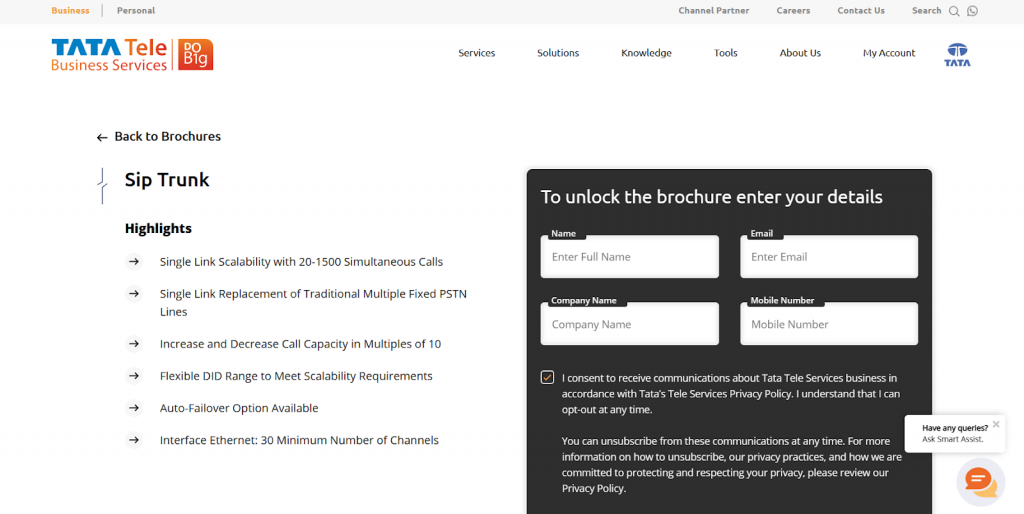 Tata Teleservices offers reliable SIP trunking solutions that can transmit voice and data in an affordable way. Their comprehensive voice connectivity product can completely replace the traditional fixed PSTN lines in your office. Its single physical link can handle a maximum of 1500 calls in parallel. The solution is also quite easy to set up and can be managed without the need for any additional hardware. 
Key Features – Single link scalability, auto-failover, flexible DID range, single link replacement, and interface ethernet.
Pricing – Contact the Tata Teleservices team for pricing details.
G2 Review – NA
3) RingCentral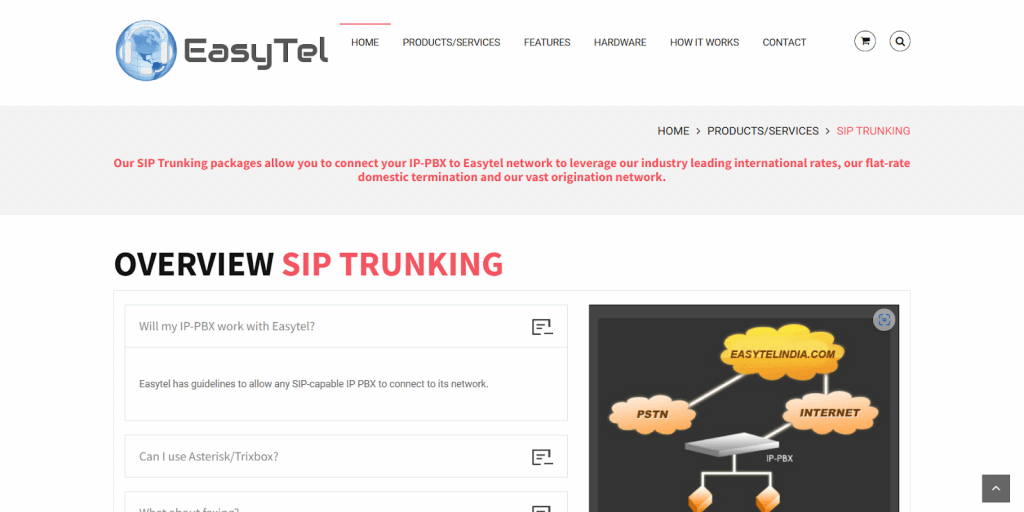 RingCentral is one of the reliable SIP trunk providers in India that offers communication solutions to businesses across the globe. The solution offered by RingCentral is completely scalable and flexible to accommodate an organization's growing communication needs. It offers uninterrupted connectivity and a highly secure platform for its clients so that they can communicate sensitive information with peace of mind. 
Key Features – Local numbers, toll-free numbers, extensions, call delegation, call park, call flip, and call forwarding.
Pricing – The most basic plan starts at $20 per user per month.
G2 Ratings – 3.9 out of 5
4) Vonage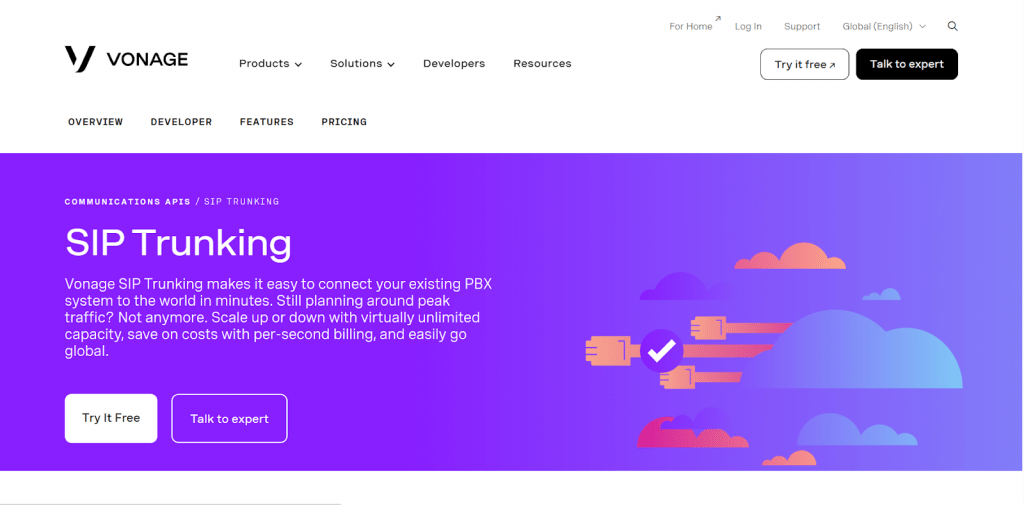 Vonage provides communication solutions to over 100,000 clients, making it one of the largest communication solutions in the world. Besides voice services, it also provides video and messaging services, making it a comprehensive solution for those companies looking to optimize their communication processes. Vonage instantly connects your PBX system to the internet and enables you to scale up with virtually unlimited capacity. Their per-second billing brings down the overall cost of communication for your business. 
Key Features – Automatic location-based routing, PBX compatibility, voice inspector, and programmable SIP.
Pricing – Contact the Vonage team for pricing details
G2 Ratings – 4.3 out of 5
5) Avoxi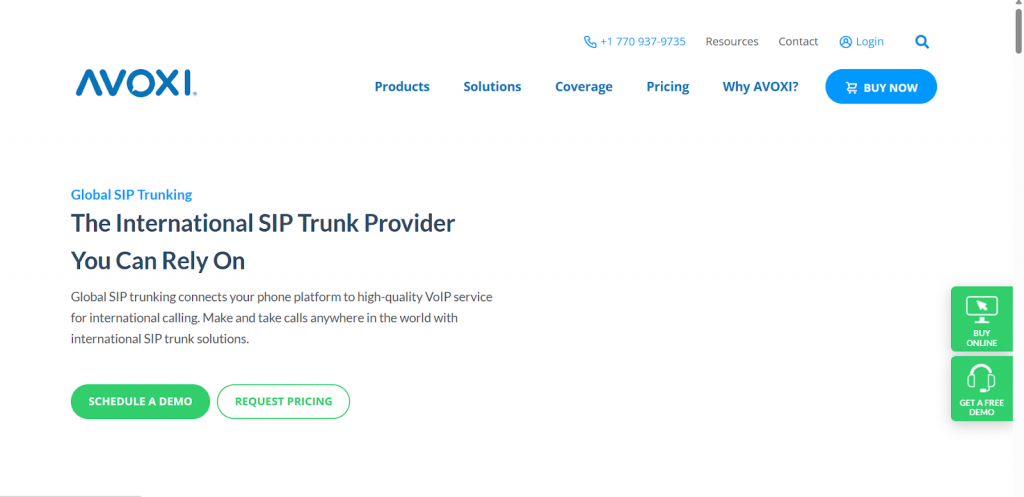 If your requirements are unlimited concurrent calls and India-based DIDs, then you can consider Avoxi. Avoxi is one of the most reliable SIP trunk providers that offers high-quality outbound voice service via unlimited SIP channels, perfect for those businesses with high calling needs. You can also provision instant phone numbers from over 170 countries, including India. The platform comes with an intuitive interface that lets you manage the numbers of multiple carriers with relative ease. You can also get toll-free numbers, local Indian DID numbers and mobile numbers from Avoxi. 
Key Features – Call routing, call recording, auto-attendant, call recording, local caller ID, and number porting.
Pricing – The most basic plan starts at $19.99 per user per month.
G2 Ratings – 4.7 out of 5
6) Nextiva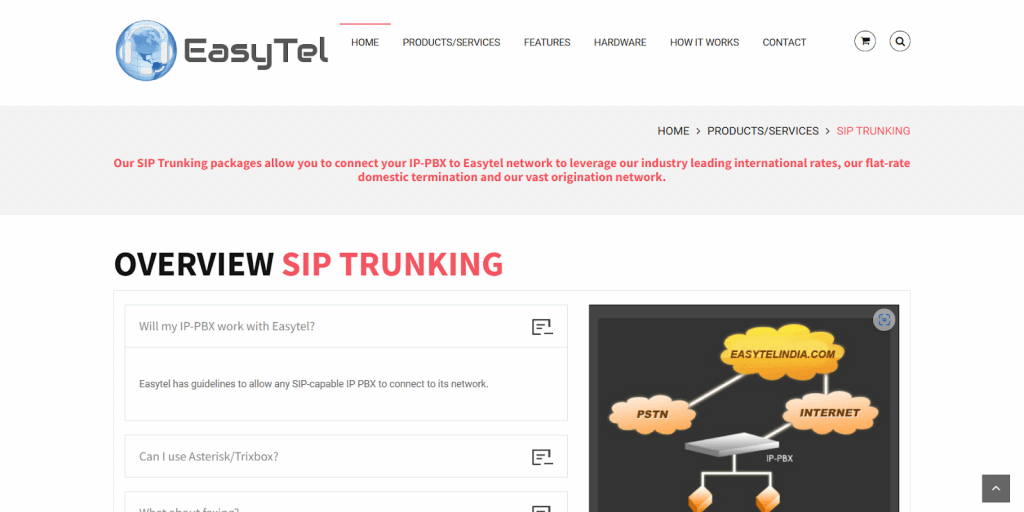 Nextiva's SIP trunks enable your business to handle large volumes of inbound and outbound calls using a PBX server. The platform lets you add trunks, channels, and DIDs as you scale up. It has multiple data centres to ensure that your calls are always reliable and of supreme audio quality. They also have a highly flexible pricing system that ensures that it is always affordable irrespective of your budget. 
Key Features – Detailed call records, fraud mitigation, automatic failover, online management, and call logs.
Pricing – The most basic plan costs $18.95 per user per month.
G2 Ratings – 4.4 out of 5
7) Sonetel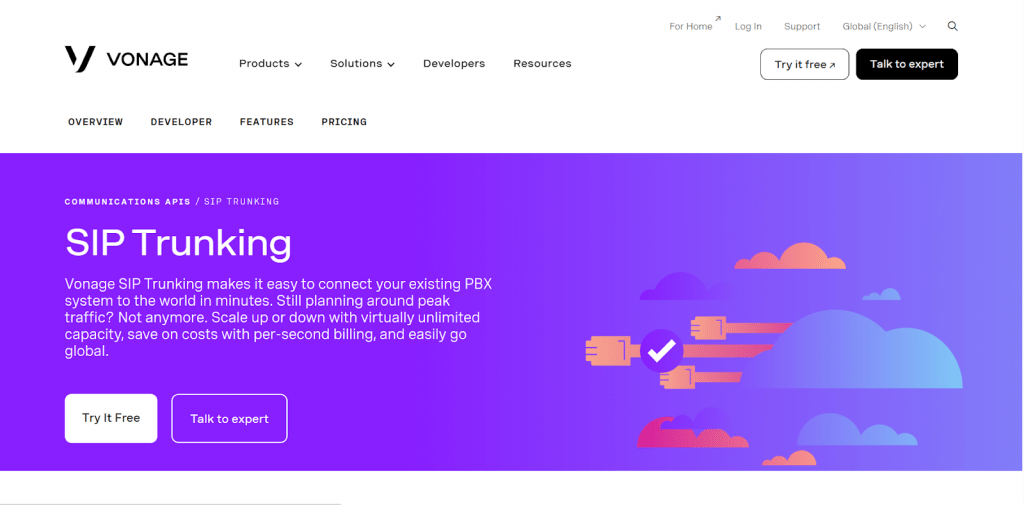 Irrespective of your call volume, Sonetel is a great choice for businesses looking for SIP trunking services. Besides the affordability, Sonetel is also known for its exceptional audio quality, minimal audio latency, and good CLI presentation. You can add new phone numbers in a matter of a few minutes or port your existing phone numbers. And thanks to its virtual number feature, you can make calls closer to your customers and improve the answer rate.
Key Features – Automatic location-based routing, PBX compatibility, voice inspector, and programmable SIP.
Pricing – The most basic plan costs $9.95 per user per month.
G2 Ratings – 4.4 out of 5
8) Telnyx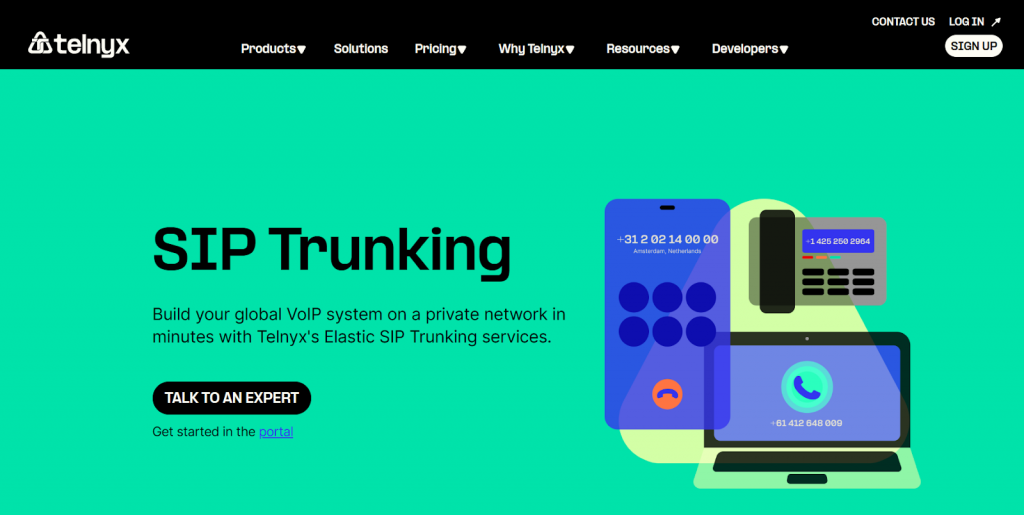 Telnyx offers you complete flexibility on how you manage your telephony. It also offers high voice quality over the PSTN. The best part about Telnyx is its transparent pricing. It bills customers purely based on their usage and not by seat, thus saving huge communication costs for businesses. You can also add or remove SIP trunks from within the portal or on-demand through API.
Key Features – Voice recording, custom voice routing, detailed debugging, alerting, reporting, and bring your own carrier.
Pricing – Contact the Telnyx team for pricing details.
G2 Ratings – 4.7 out of 5
9) CloudBharat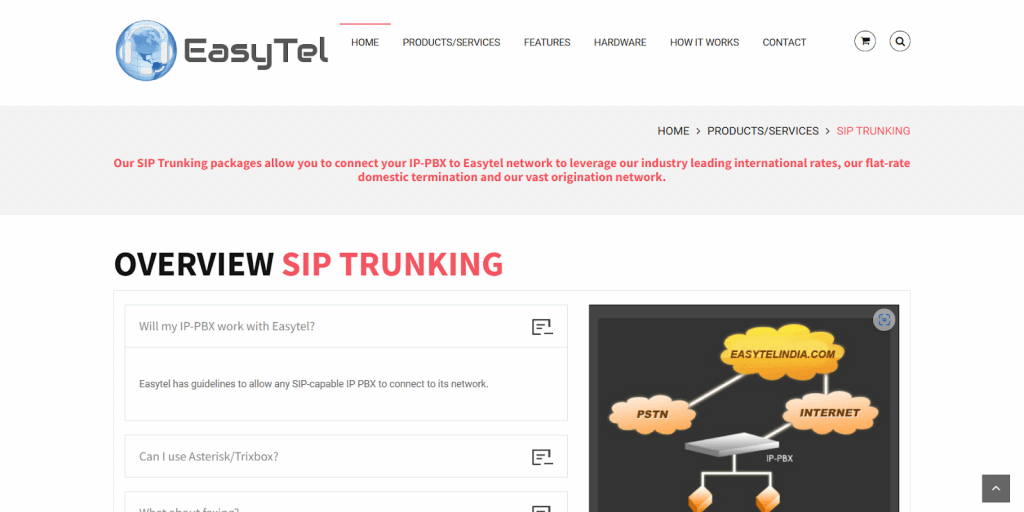 CloudBharat is an Indian SIP Trunk Provider that is affordable and also has a very high uptime. It can effortlessly integrate with your existing infrastructure and requires minimal configuration and maintenance. When you use their SIP services, all your calls are protected by TTLS and SRTP, so that your calls are never intercepted. The platform is also quite flexible which means you can adjust services, change phone numbers, and even add or remove extensions as and when needed.
Key Features – DID number, IDD calls, concurrent calls, and international numbers.
Pricing – The most basic plan costs ₹3300 per month for 5 channels.
G2 Ratings – Not rated
10) AstraQom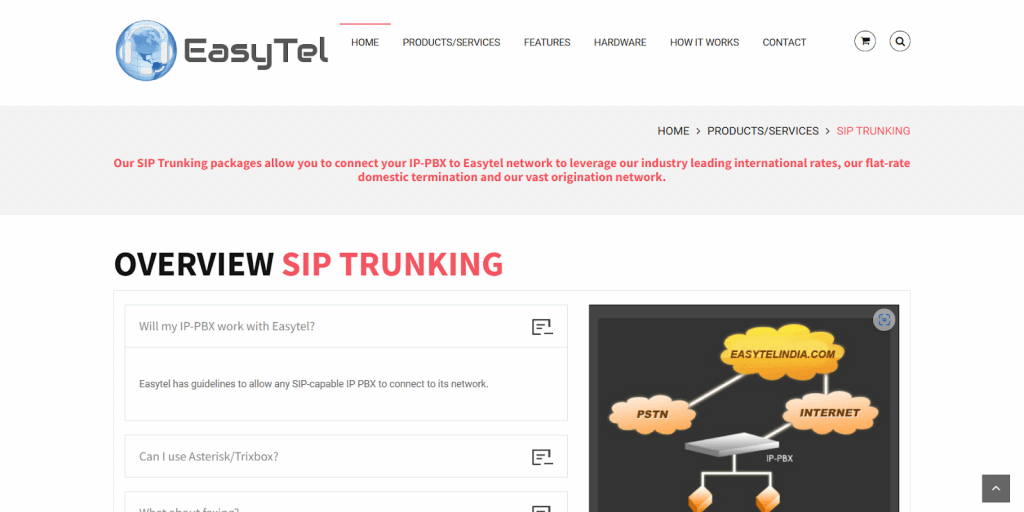 AstroQom is an indigenous telephony platform that is a one-stop solution for all your communication needs. Besides SIP trunking, this provider also offers services like cloud PBX, text messaging, call distribution, and virtual numbers. They serve almost every country in the world and are well-suited for multi-national businesses. They have data centres around the world to ensure that all your calls are stable, secure and uninterrupted. 
Key Features – Auto-attendant, automated telephone surveys, toll-free numbers, live answering, and virtual receptionist.
Pricing – Contact the AstraQom team for pricing details
G2 Ratings – Not rated
11) Easytelindia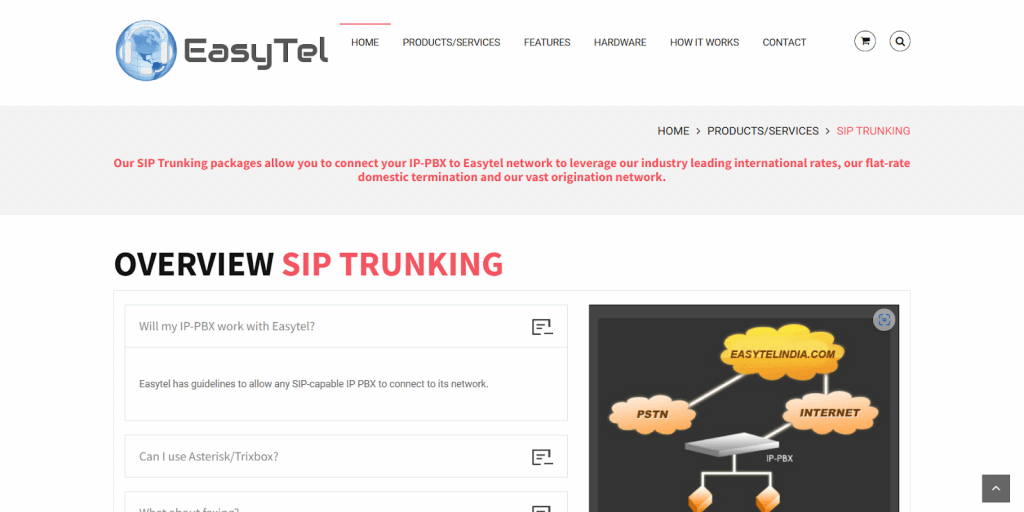 The last tool on our list is Easytel which is a top Internet telephony service provider in India. It uses its in-house network infrastructure to offer VoIP solutions for businesses from all industries. The communication solution provided by this provider is location-agnostic and the users can access their services from any part of the world. Businesses can connect their IP-PBX network to the Easytel network to enjoy great international calling rates, flat-rate domestic termination and tap into their expansive origination network.
Key Features – 3-way calling, call forwarding, call waiting, direct international dialling, voicemail, and toll-free numbers.
Pricing – Contact the Easytelindia team for pricing details
G2 Ratings – Not Rated
Further Reading: Top 11 VoIP Service Providers In India
Conclusion
Choosing the right SIP trunk provider is critical for those businesses looking for reliable and affordable communication solutions. The 11 SIP trunk providers highlighted in this list offer a wide array of features, scalability, and excellent call quality to ensure that you consistently meet your business requirements. And it doesn't matter how big or small your business is, there is a solution for you out there.
A business analyst turned writer who loves to paint away his free time. A staunch follower of the 'Workcation' concept, he loves to combine the art of writing with the enigma of traveling.