Let's begin the post by defining VoIP. VoIP or Voice over Internet Protocol is a modern communication technology that works by converting voice signals into data packets and then transmitting them to the receiver. You can make calls directly from your computer, phone, or any other eligible device.
But that's not the unique thing about VoIP. Apart from offering communication services, it offers a plethora of value-added features to improve the productivity of your employees. Auto-dialer, call forwarding, call routing, call scheduling, and integration with third-party tools are some of the most popular features of VoIP systems.
With that basic introduction, let's now understand everything about VoIP service providers, how to pick one for your business, and who are the top VoIP service providers in India.
Who are VoIP Service Providers?
In layman's terms, VoIP service providers are agents or businesses that provide VoIP services. They install VoIP devices and equipment (if applicable) at your premises and charge you monthly for the usage. Most VoIP service providers cater to both commercial and residential audiences.
How to Choose the Best VoIP Services Providers in India?
Here are the different steps involved in selecting a VoIP service provider in India –
Step 1: Understand what VoIP is
This is the most basic requirement. Before you even research the top VoIP service providers in India, you must know what VoIP is, how it works and what are the benefits offered by it. There are numerous resources available on the internet that you can use to gather a wealth of information about VoIP. Here is a detailed guide on VoIP available at FreJun.
Step 2: Find out your must-have and nice-to-have features
Now that you know what VoIP is and what it is capable of, it is time to map its capabilities with your needs. In other words, you need to find out what features offered by a VoIP phone system you certainly need and can live without. This will also significantly help in your next step.
Step 3: Build a list of all VoIP Service Providers
The next step is to build a list of all VoIP service providers. Now you might wonder, how do I pick a handful of service providers when there are hundreds of providers currently in the market. It's simpler than you think. All you have to do is pick all those VoIP service providers who offer all your must-have features and at least a couple of nice-to-have features. This will easily narrow down your list to only a handful of VoIP service providers in India.
Editor's Choice: Call Automation for Data Driven Teams
Step 4: Find out what other users have to say about the VoIP service provider
No, you don't have to talk to all the users individually and find out their experiences. All we are asking to do is visit review sites like G2 and Capterra and search for these service providers. Find out what the users felt after using the solution, its positives, negatives, and the most loved feature. 9 out of 10 times, these reviews are accurate and will give you a fair idea about whether to select that tool or not.
Step 5: Try the VoIP solution provider
If you are planning to adopt a cloud-hosted VoIP service provider, you are in great luck. Most service providers, including FreJun, offer a free trial to explore all their features. This will give you a first-hand experience of what the tool is actually capable of. This is the best way to understand the performance of the tool without making an actual commitment.
Once you cross all the above 5 steps, you will automatically arrive at your desired VoIP service provider.
Try FreJun for free by clicking here.
The Best 11 VoIP Services Providers in 2022
Here is our pick of the top 11 VoIP Services Providers in India in 2022 –
1. FreJun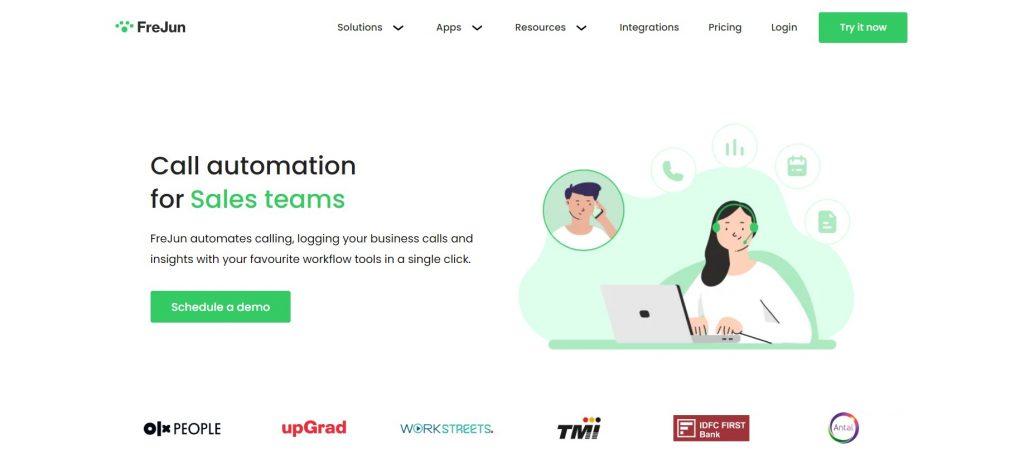 FreJun is the #1 VoIP service provider in India and secures a top spot in this list. It comes with a vast bundle of smart features such as call scheduling, Autodialer, call recording, and click-to-call, to name a few. The platform also has a powerful analytics engine that comes with insightful data for your to make informed decisions. FreJun can be seamlessly integrated with HubSpot, PipeDrive, CEIPAL, X0PA, Google Calendar, and Outlook Calendar. FreJun strives to boost the productivity of all its users by saving time and resources for communication.
Pricing: The most basic plan of this powerful platform costs only ₹ 1,299 per user per month. In this, you get unlimited calling, a virtual number, and the click-to-call feature. Check out the full pricing plan here. There is also a no-questions-asked free trial for 7 days.
2. RingCentral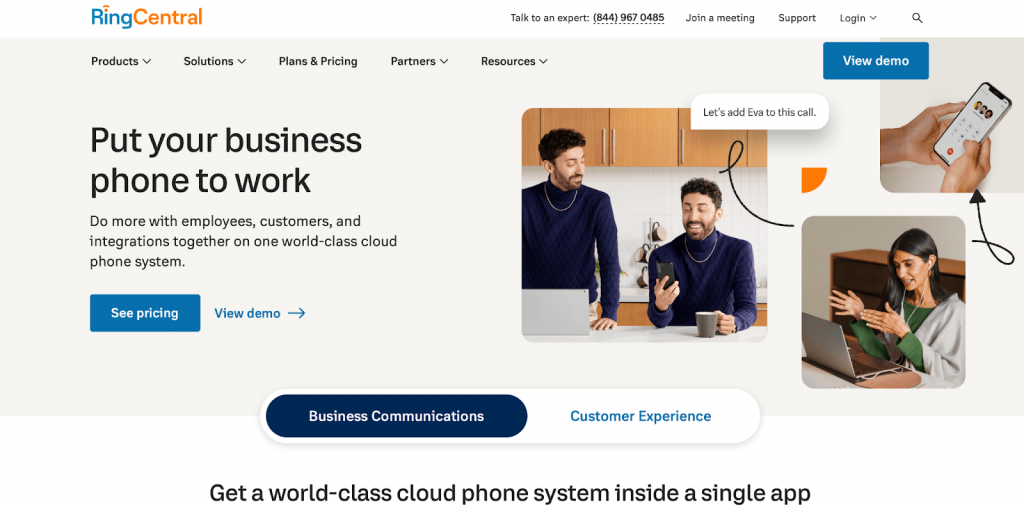 The next on our list is RingCentral. RingCentral is a VoIP communication platform that works through the cloud, thus eliminating the need to set up on-premise PBX hardware. Like FreJun, you can call anyone through any device, be it your laptop, mobile phone, or computer. All you need to do is log into your RingCentral account, and you can get started instantly. It comes with some interesting features like caller ID, video conferencing, SMS, and fax. This makes it an ideal platform to meet all your communication needs. You do not have to subscribe to multiple platforms and empty your coffers.
Pricing: The most basic plan is priced at around $19.99 per user per month. This plan is suitable for around 20 users only. You get features like Voicemail-to-text, team messaging, and document sharing in this plan.
3. Grasshopper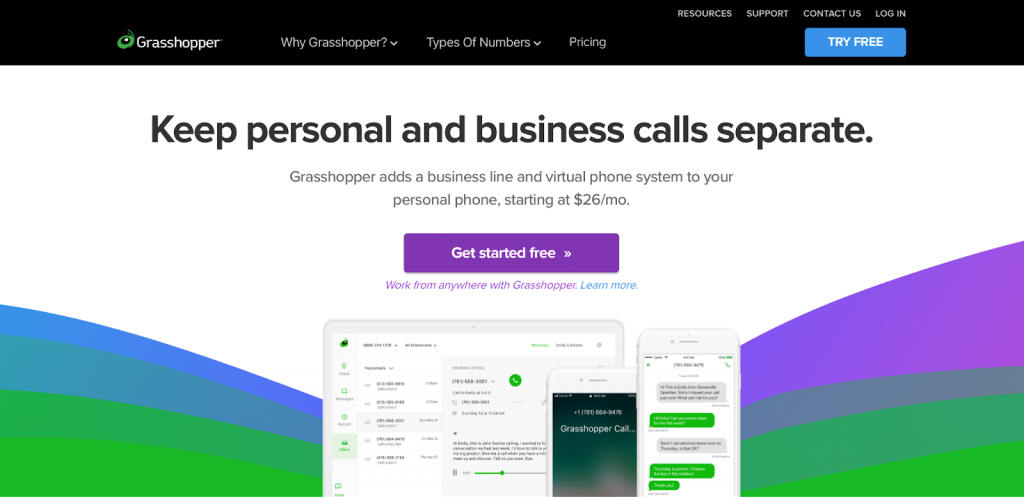 Grasshopper is a virtual phone system that works on WiFi and VoIP. The most noteworthy feature of this platform is its voicemail transcription. It also offers other regular features like call forwarding, call transfers, business phone numbers, virtual fax, and reporting. According to their website, you can get started in just three simple steps. First, you need to select a toll-free or local number and select a suitable plan. Second, you need to download their app on your laptop, mobile, or both. In the app, you need to switch on the WiFi calling feature, and you are all set.
Pricing: The most basic plan is priced at $26 per month, where Grasshopper adds a business line and virtual phone system on your personal phone.
4. Ooma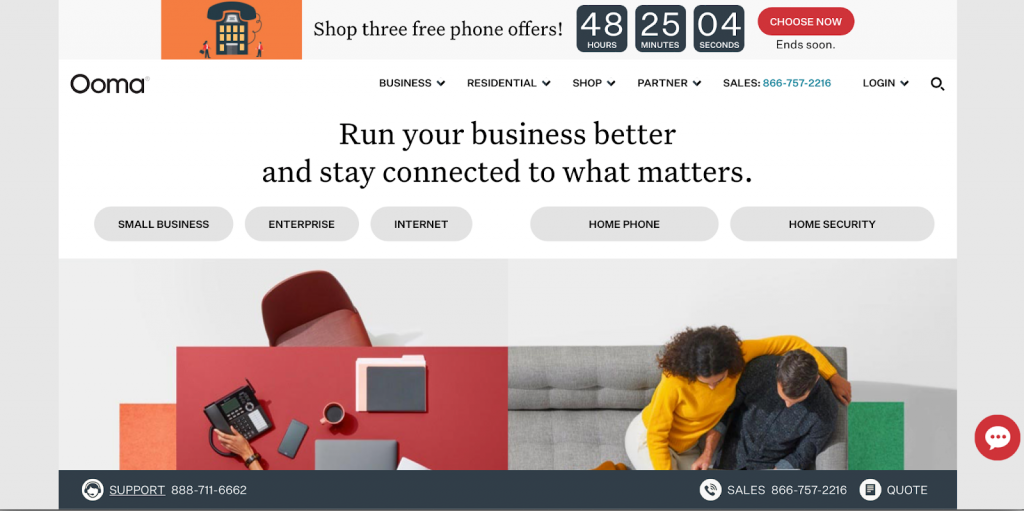 Ooma is a leading VoIP provider for both residential and small business customers. It comes with a desktop and mobile app to talk on the go with your customers or colleagues from any device of your choice. The app is available on both Google Play and Apple Store. Some other popular features of Ooma include voicemail. Call forwarding, call blocking, and virtual receptionist are some of the features loved by its users.
Pricing: This is one of the few platforms to offer a free plan. However, this is only for its residential users. You also need to pay a one-time fee for the phone system plus other equipment for operation. The most basic plan for business users is priced at $19.95 per user per month. Important features part of this plan includes a virtual receptionist, ring groups, music on hold, and one toll-free Number.
5. Servetel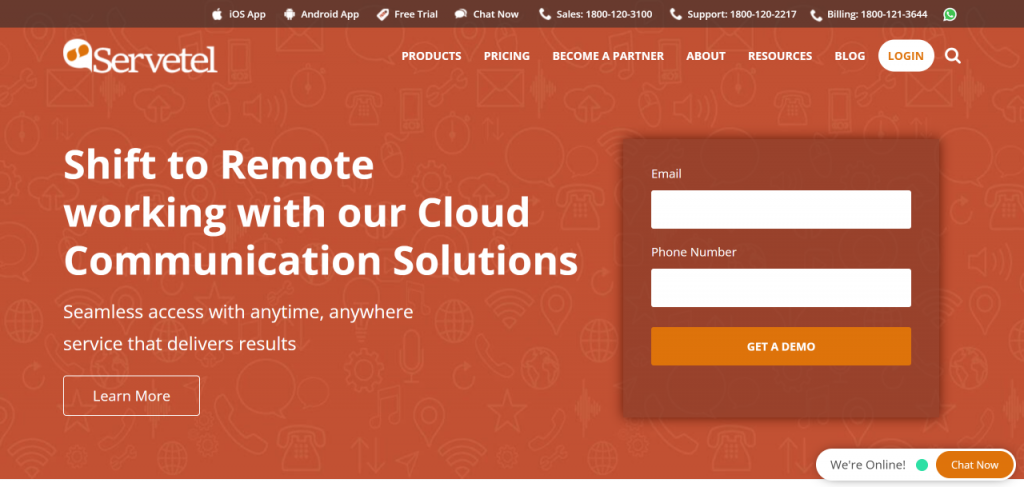 Servetel is a cloud-hosted VoIP telephony system that aims to streamline communication between businesses and their customers. The platforms come with special features like IVR, missed call service, voice broadcasting over standard features like a toll-free number, virtual number, call forwarding, and call routing. Servetel offers 99.99% SLA-backed uptime with N+1 redundant infrastructure.
Pricing: You need to contact the service provider for pricing details. However, they offer a fully functional 10-day free trial plan for all new users.
6. CallHippo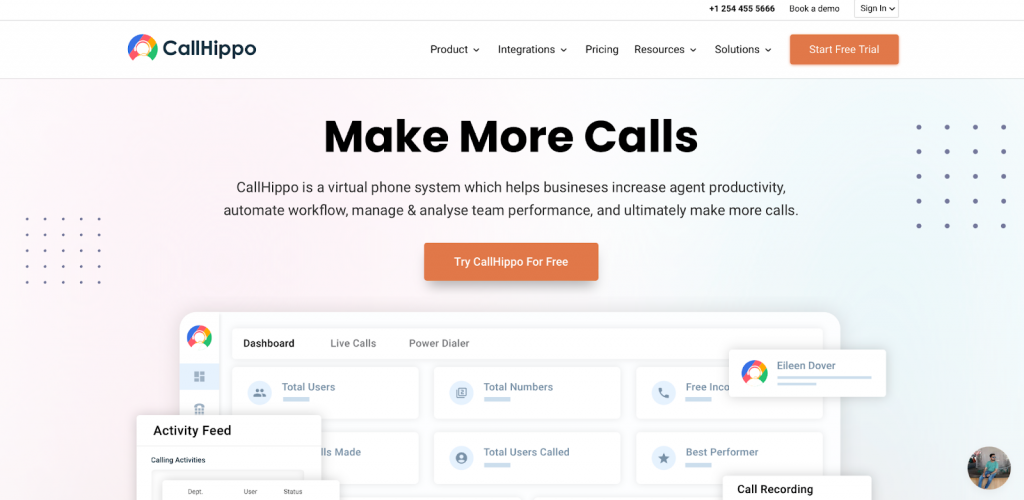 CallHippo is a state-of-the-art business phone system that allows businesses to communicate with their customers across the globe. They also claim that you can set up their account in less than 3 minutes which is very important these days as businesses do not have to break the bank to train their employees. This platform can be integrated with most of the CRMs like HubSpot, PipeDrive, and Zoho and productivity tools like Slack and Intercom. Some other features of this platform include IVR, smart calling routing, and live call monitoring.
Pricing: The most basic plan called Bronze is priced competitively at ₹1300 per month per user. This is ideal for startups looking for basic features like forward-to-device, SMS, voicemail, and Teams.
7. Poly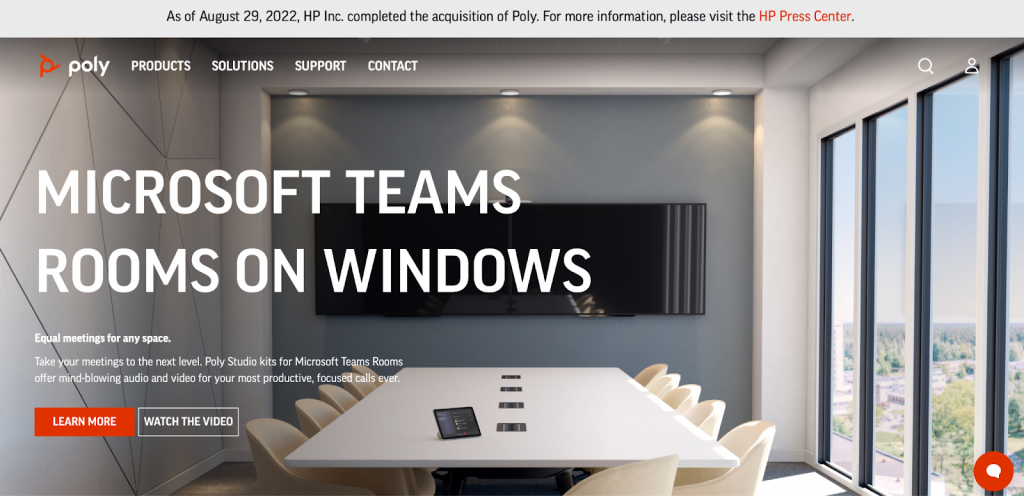 Poly is a VoIP solution that's tailored for businesses and home offices. The platform is not only easy to set up but also has a flat learning curve when it comes to its usage. This means no special training is required, and you can get started with it instantly. Poly comes with a full suite of products, software, and accessories that seamlessly work with all known SIP-based IP phone systems.
Pricing: Contact the business for pricing details
8. OpenPhone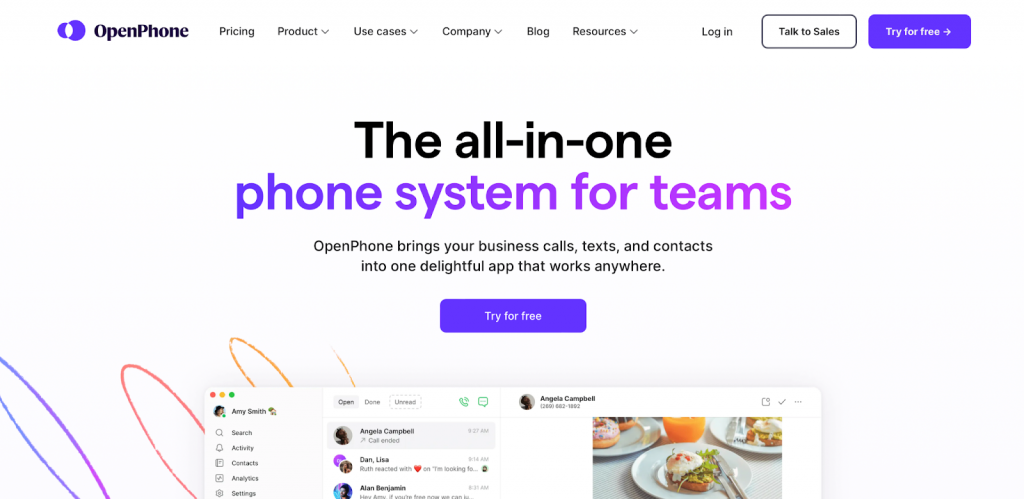 OpenPhone is an all-in-one VoIP phone system that caters to businesses of all sizes. It offers a unified app that lets you manage everything from calls to contacts. The best thing about this platform is that you get a dedicated inbox with every phone number. This ensures that all your conversations are kept separate from others. You can also integrate OpenPhone with tools like Slack, Google Contacts, HubSpot, and more.
Pricing: The most basic plan, called Standard, is priced at $10 per user per month when billed annually. Apart from one local phone number or toll-free number, you also get access to features like Voicemail to text transcription, basic IVR or auto-attendant, and call recording.
9. Enterprise Voice on Lync Server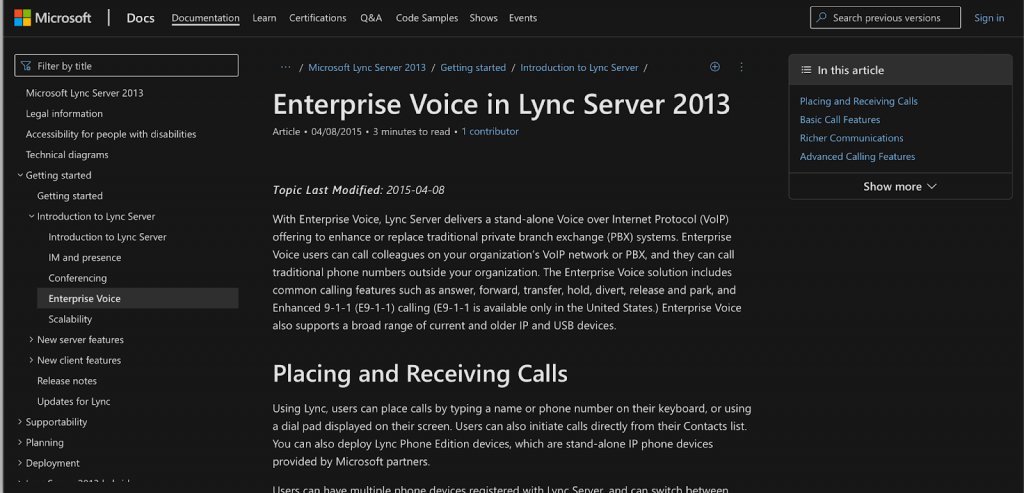 Enterprise Voice from the tech powerhouse Microsoft is truly one of its kind. It offers a stand-alone VoIP service that comes with simple features like the answer, forward, transfer, hold, divert, release and park, etc. Making a call is simple. All you have to do is type a name or phone number on the dial pad of Lync or initiate calls directly from your contact list.
Pricing: Contact the service provider for pricing details.
10. Vonage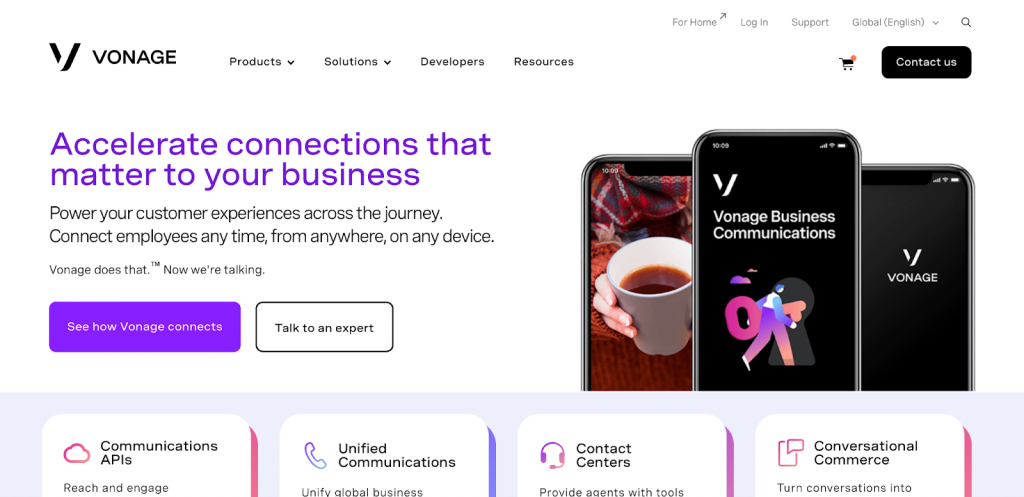 Vonage is a popular VoIP solution provider that enables organizations to combine voice, messaging, video, and data capabilities into one platform. The most loved feature of this platform is the video collaboration tool that transforms your voice, SMS, and team messaging into video meetings instantly. All it takes is a single click of a button. You can manage Vonage through a dedicated admin portal that can be accessed on any device, be it your computer or mobile phone.
Pricing: The most basic plan is not available at a concessional rate of $13.99 per line per month. The normal price is $19.99 per line per month. In this plan, you get access to features like mobile and desktop apps, unlimited calls and SMS, unlimited team messaging, and a dedicated dashboard.
11. Nextiva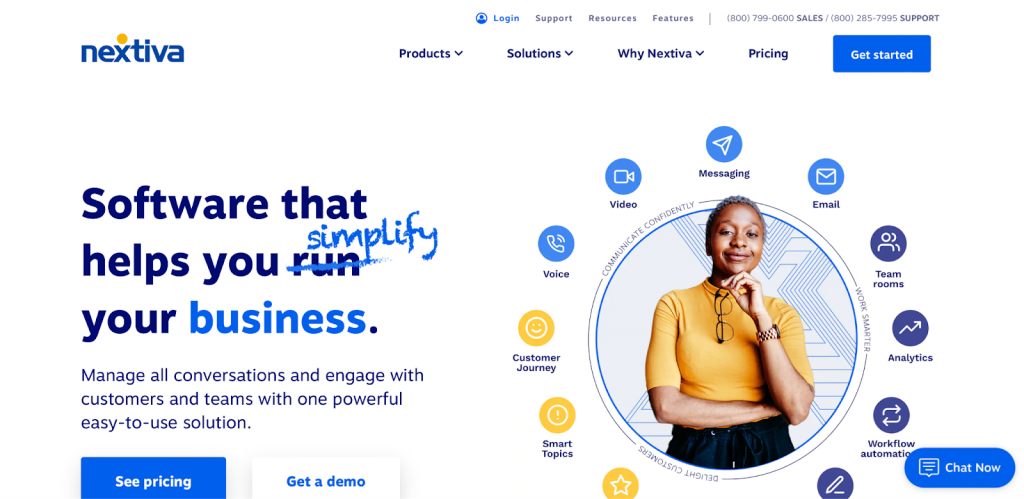 The last VoIP solution on this list is Nextiva, which offers a single platform to manage all your conversations with your customers and employees. With Nextiva, you can instantly call, conference, video, chat, or even share screens with different people. You can create a local number or a custom number without any extra toll charges. Every user also gets a dedicated virtual room for sharing their screens with other people.
Pricing: The most basic plan, called Essential, is priced at $18.95. It comes with basic features like unlimited voice & video calling, voicemail, toll-free numbers, Outlook/Google Contacts Integrations, and unlimited internet fax. There is also a 7-day free trial plan available for all users.
How Can Frejun Help You Improve Your Business?
There are multiple ways in which FreJun can help improve your business –
It automates the entire life cycle of your sales calls. This way, you can close deals faster.
It lets you make informed decisions, thanks to its ability to let you view all the interactions with customers and prospects in one place.
It helps in training by recording and logging all your customer calls
You can monitor your team's performance and take corrective measures thanks to FreJun's daily call reports.
Want to talk to us and no more about FreJun? Book a meeting now.
FAQ
Which VoIP phone service is best for phone calling and text?
Currently FreJun is the #1 VoIP phone service for all your communication needs.
Do you sales sector businesses need a service provider for VoIP?
Absolutely. Since employees in the sales sector are always on the move, a device-agnostic VoIP solution will help them stay connected with their customers 24X7.
Is VoIP good for small businesses or large scale exptreprices?
VoIP is good for both small businesses and large-scale enterprises. However, the benefits vary for each of these business types. For example, for small businesses, a VoIP service helps in exuding professionalism while for a large business, it helps in making their employees always reachable.
How Does VoIP Service Impact Your Business in India?
A VoIP service positively impacts your business in India by improving the overall customer and prospect experience.
Who is providing VoIP services in India?
There are so many VoIP service providers in India, but FreJun offers the highest value for your investment.