With the increasing need for businesses to communicate with their customers effectively, the need for good quality, affordable business telecom services have grown by leaps and bounds. Tata Teleservices is a leading teleservice provider, offering cloud telephony as one of its popular services: the company offers different plans to fit varying needs and budgets.
However, when it comes to choosing a provider for your business, nothing is more important than getting what you pay for. And as we all know too well, sometimes even the best laid plans go awry.
It makes it necessary to switch providers when things don't work out as planned.
If you are planning to switch providers, here are five alternatives to Tata Teleservices that will help you find the best fit for your business needs:
Top 5 alternatives to Tata Teleservices SIP trunk
1. FreJun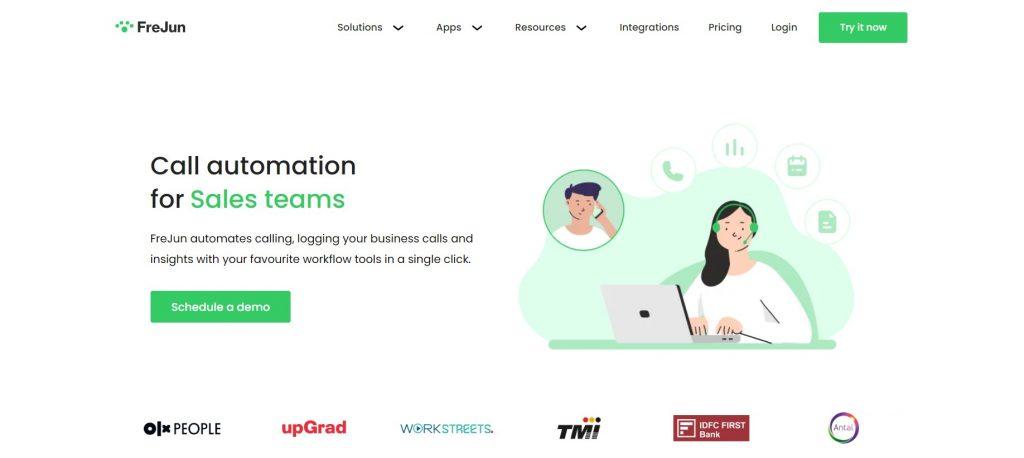 FreJun is a cloud telephony platform that automates your business calls. With FreJun, users can make outbound and receive inbound business calls from one unique virtual number. With the help of the power dialer, you can eliminate the need to dial outbound calls and skip busy tones manually.
It has an inbuilt call recording feature that allows you to record your calls and listen to them later. The best part is that you can also forward these recordings to others, and they can access everything without having to create an account with FreJun.
Features
It provides its users with a virtual number, which they can use for making outgoing calls from their existing landline or mobile numbers.
The calls you make are logged, recorded and integrated with workflow tools such as CRM like Hubspot or ATS (for applicant tracking system).
Every action with an outbound call will be recorded and synced with your integrated CRM.
It comes with a chrome extension that allows you to place the call directly anywhere from the web without opening the dashboard.
It also has a call recording and note-taking feature that allows you to record and take notes during your call.
The dashboard is a simple and easy-to-use interface that allows you to manage all your customer calls in one place.
You can schedule follow-up calls to the leads and track the performance of the call on whether it was successful.
Pros
Easy-to-use interface
Chrome Extension to place outbound calls directly from the web
Automatic syncing of your CRM
Offers 24/7 support.
Simple installation and takes only 5 minutes.
Offers better connectivity to reach the customers.
Availability of record features that records and displays the call in the dashboard.
Cons
You may face some glitches, but customer support always resolves the same in a matter of minutes.
2. Avaya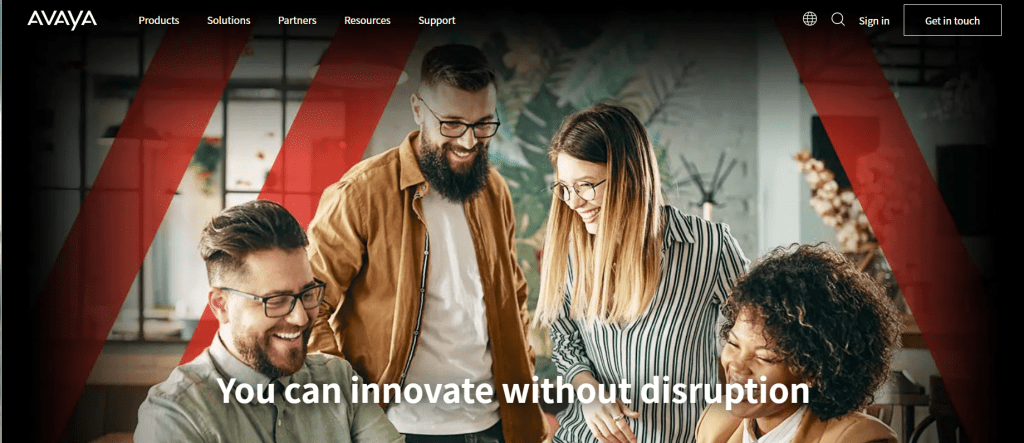 Avaya OneCloud Contact Center as a Service is a cloud-based contact center solution for large and small companies who want to improve their customers' and employees' experiences.
​Avaya delivers a complete cloud customer service call center, including voice and digital channel engagement, self-service automation, and employee productivity tools.
Features
Its AI-powered predictive modeling helps you reach more customers and accomplish your targets faster.
It provides you with 24/7 conversational self-service with an option to speak to a live agent.
With its customizable voice and digital desktop, you can skip screen-switching and enhance your work process.
Its unique "Customer Analysis" feature allows you to respond to consumer feelings and emotions for deep and meaningful engagement.
You can improve team collaboration with converged communications which remove front- and back-office silos.
Pros
It is equipped with salient features businesses need to grow in the long term.
Its interface for managing end-users is quite innovative and easy to use, enabling anyone to call or chat with you even when you aren't at your desk.
Cons
It doesn't inform you if the line is already busy and causes you to wait unnecessarily.
3. Genesys Cloud CX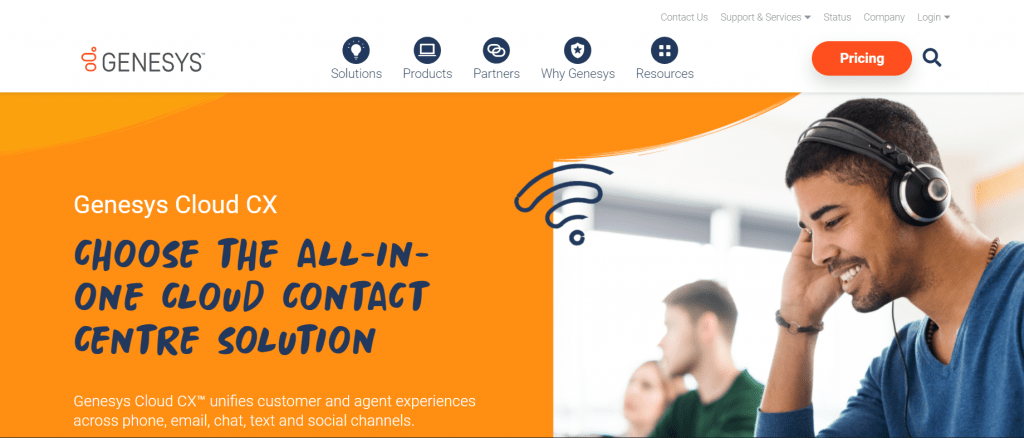 The Genesys Cloud CX platform is a reliable choice for thousands of small, medium, & large enterprises and works as the leading cloud call center solution & customer experience platform.
It collects all the data and connects the insights across all the teams, tools, and interactions so that you can quickly resolve all your customer's problems. Multiple digital channels make it possible for you to interact with your customers anytime, anywhere, and on any channel.
Features:
Its smart automation across the entire journey enables you to make the right decision at the right time to produce the best results.
It helps you delight the customer experience with bots and predictive AI technology and route calls to an agent when customers have more complex issues.
It gathers all the information in a tool for your employees and call center agents to build better engagement, enhance customer interactions and speed up the entire team's performance.
Its composable customer experience platform with third-party applications and integrations makes it easier for you to reach customers anytime across all channels.
Pros
Genesys cloud CX gets embedded in existing legacy applications, and agents can use it in several other divisions to facilitate even complex contact center infrastructure.
It is easy for agents with a simple yet highly-featured interface and desktop environment.
Cons
Support requests sometimes take too long, and the support team provides no sturdy solutions for certain problems due to the lack of information.
4. Knowlarity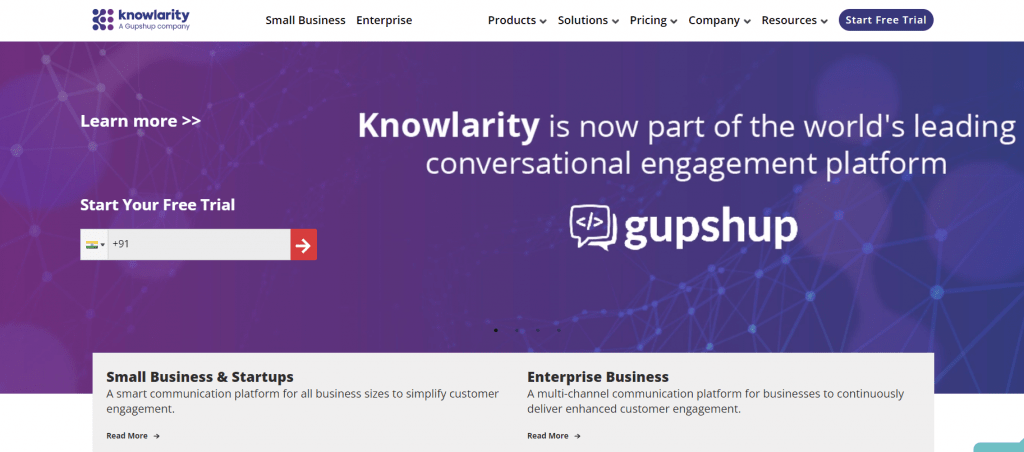 Knowlarity's Interactive Voice Response software allows customers to interact with businesses from their phones anytime. With an IVR system hosted in the cloud, your business can manage many calls from customers and prospects—a capability that gives you enough efficiencies to scale.
Moreover, the intuitive dashboard makes it easy to manage, monitor and review the number of calls made and their status and outcome.
Features
It is easy to integrate with CRM & other solutions for cohesive customer engagement.
Its virtual number helps companies route incoming customer calls to agents as per customer queries, offices and even departments.
Its IVR technology helps businesses automate customer interactions in outbound and inbound calls through pre-recorded voice messages and text-to-speech technology.
Its ChatBots and VoiceBots allow businesses to automate engagement at many levels, e.g., a business automates conversations for support.
Pros
It allows you to listen to active/ongoing calls, which helps you improve how your team works and understand how it handles objections.
It brings you all your investigation, including call drops, logs and calls made in one place for better analysis.
Cons
Though the customer of Knowlarity does a great job in offering all kinds of reports, you may need to see more information on the dashboard itself, and its reporting section can be improved a bit.
You can sometimes find its support quite slow and notice the client assistance group getting confused instead of resolving the primary issue.
5. Exotel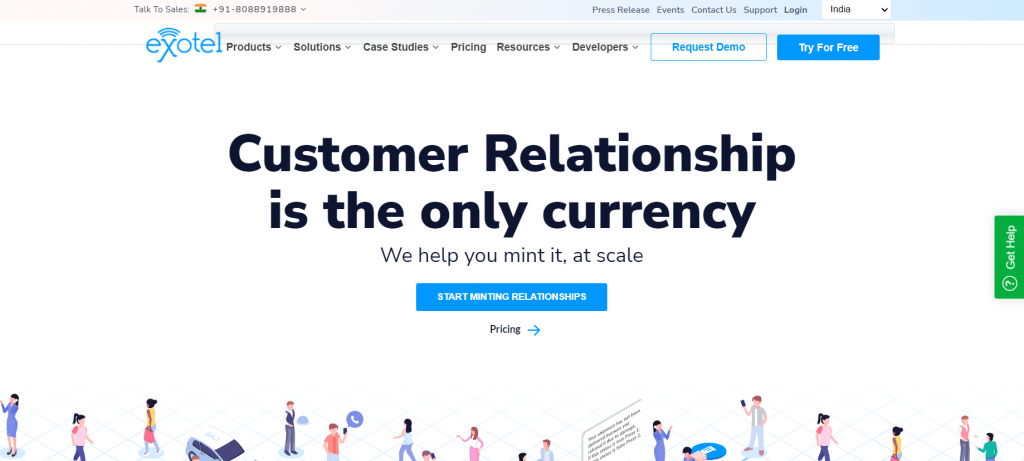 Exotel is a leading full-stack customer engagement platform. It delivers customer communication technology for customer-facing teams to create and leverage memorable customer experiences.
It acts as a link between multiple channels and digital mediums to make contextual and intelligent conversations possible.
Exotel creates a multi-lane channel with a single communication framework by offering cloud communication, SMS, remote contact centers, and conversational AI capabilities.
Features:
Exotel enables businesses to leverage multiple channels and the associated data with digital mediums, i.e., apps, web UI, Desktop, etc., for contextual, intelligent, and seamless conversations.
It helps businesses have up-to-date customer context even when customers change channels while interacting.
It notifies you when you or your agent misses a call, tries to change their activity state, or your call flows and more.
It offers you unlimited concurrent calls.
Pros
Using Exotel is more like a plug-and-play service as you find everything embedded.
It is easy to use and hassle-free to set up. Its UI and UX give you super smooth experiences.
It keeps your consumers' data completely safe.
Cons
They don't provide services out of India, so you may have to go for multiple options to manage things in other countries.
It doesn't inform you when the agent is busy on another call for customer support; you'll still hear a ringing sound, so the waiting time increases.
Further Reading: Top 11 Alternatives to CallRail
Conclusion
The bottom line is that if you have a business requiring more flexibility and better performance, you should consider using the best VoIP & cloud telephony system. It will help you grow as a business while keeping your costs low and improving productivity.
One such VoIP & cloud telephony system is FreJun. It is designed for businesses of all sizes and provides a flexible, robust and scalable solution that can easily be customized to meet your needs. Its easy-to-use interface makes it an ideal fit for businesses of all sizes looking for an affordable alternative to traditional phone systems.
Moreover, its stellar customer support makes sure to resolve all your issues within 24 hours. Its unique features cater to all your needs and empower you to build sturdy relations with your customers. Want to know more about how FreJun can help you grow your business? Schedule a demo, and we will show how you can transform the way you reach your audience.