In this competitive world of sales, it's just not enough to rely on your reps' natural talent or intuition to succeed. As a sales leader, you must create an environment for your team to constantly refine their skills, stay up-to-date with the latest industry trends, and find ways to work smarter towards your sales goals. And that's where sales coaching tools come in. From monitoring your reps' calls to providing personalized feedback, these tools can help improve their sales skills and help them achieve their targets consistently. In this blog post, we've rounded up the top 13 free sales coaching tools to help take your sales game to the next level. All these tools have a free plan, a free trial, or a free demo to explore without spending a rupee.
Best free sales coaching tools in 2023
Coaching your reps need not be a grueling and time-consuming task anymore. Here are 13 free sales coaching tools that can optimize and streamline your coaching efforts –
1) FreJun: Best coaching platform for sales calls analysis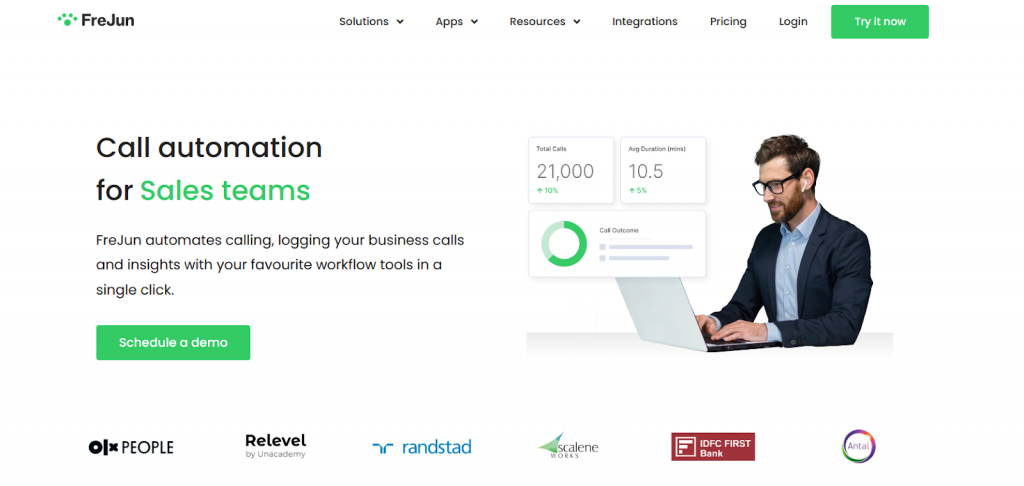 FreJun is an advanced sales call analysis platform that offers key insights and data about your reps' interactions with prospects. Your team can use this invaluable information to improve their sales pitch, customer interactions, and overall performance. Powered by artificial intelligence, FreJun has been carefully designed to optimize your organization's sales process quickly. FreJun records and logs all your sales calls and automatically updates customer data in any CRM, whether Pipedrive, Zoho, HubSpot, or even LeadSquared.
The most basic plan starts at ₹ 1,299 per month. There is a free trial available for all users to explore the platform.
G2 Rating
Further Reading: 11 Best CRM Software For Indian Companies
2) Avoma: Best coaching platform for collaboration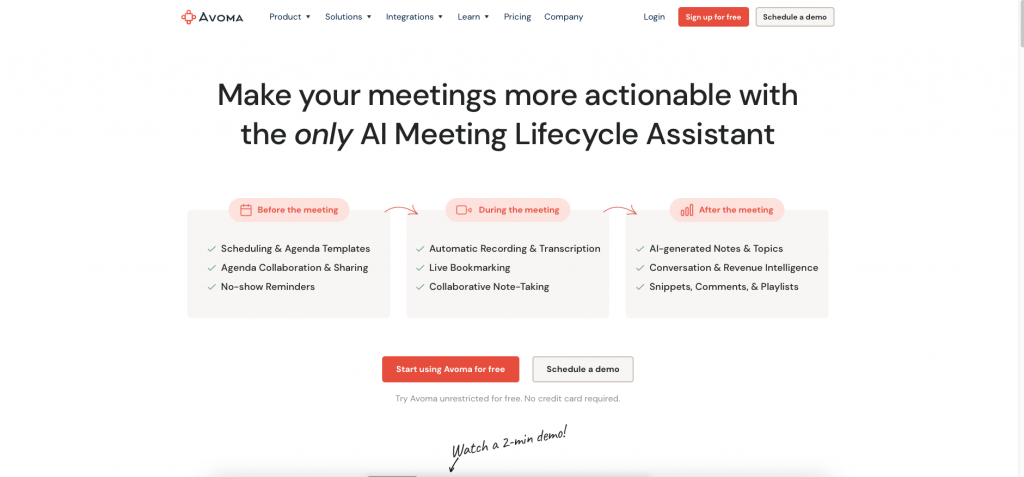 Avoma might have carved a name for itself as a robust meeting assistant tool, but it's also a highly capable sales coaching software. It can effortlessly capture what's working and what isn't with your sales calls by tracking trends of topics and talk patterns. It also analyzes objections and feature requests to help craft more data-driven and personalized coaching. Avoma is one of the few tools to offer a curated playlist that you can use to train your reps anytime, anywhere. It also offers numerous collaboration features, such as a collaborative note editor, sharable snippets, and sharable agenda templates, all of which help coach your reps.
Pricing
There is a free plan that offers basic features and functionalities.
G2 Rating
3) Meetrecord: Best coaching platform for identifying areas for improvement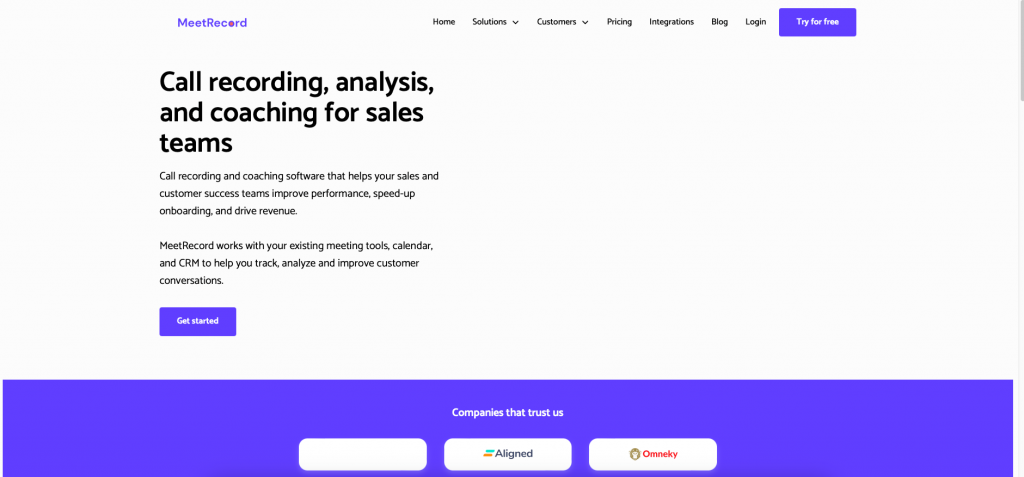 The next coaching platform on our list is Meetrecord which can identify coaching opportunities and areas for improvement by recording, transcribing, and analyzing your sales calls. It can improve your team's overall performance and speed up onboarding by scoring each and every sales call. It can also measure key performance indicators, such as monologue duration and talk-to-listen ratio, that can be used to offer customized and actionable feedback to every individual rep in your team.
Pricing
The most basic plan costs $39 per user per month. There is also a free trial for all users.
G2 Rating
4) Chorus: Best coaching platform with conversational intelligence capabilities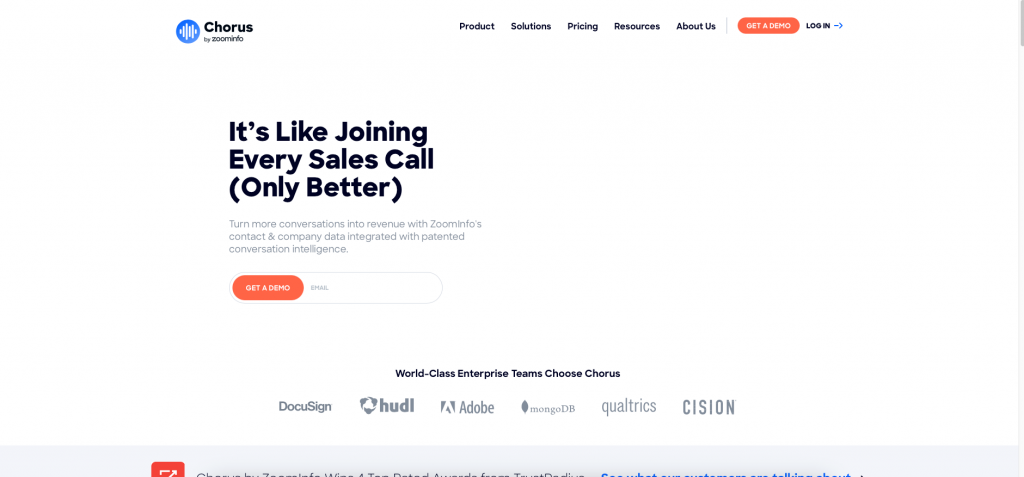 Chorus is a conversational intelligence tool from the house of Zoominfo. This platform offers numerous features to create a coaching culture in your sales team. You can set up customized coaching initiatives to meet your specific sales goals. Since there is no limit to the number of assessment areas, you can craft a coaching program for each rep or team. Chorus also lets you rate the rep's performance and offer personalized feedback via a dynamic scorecard. The platform also intelligently recommends all the high-scoring calls so reps can learn from their peers.
Pricing
Contact the Chorus team for pricing details. However, there is a free trial available that will be activated after you book a demo.
G2 Rating
5) Brainshark: Best coaching platform for direct feedback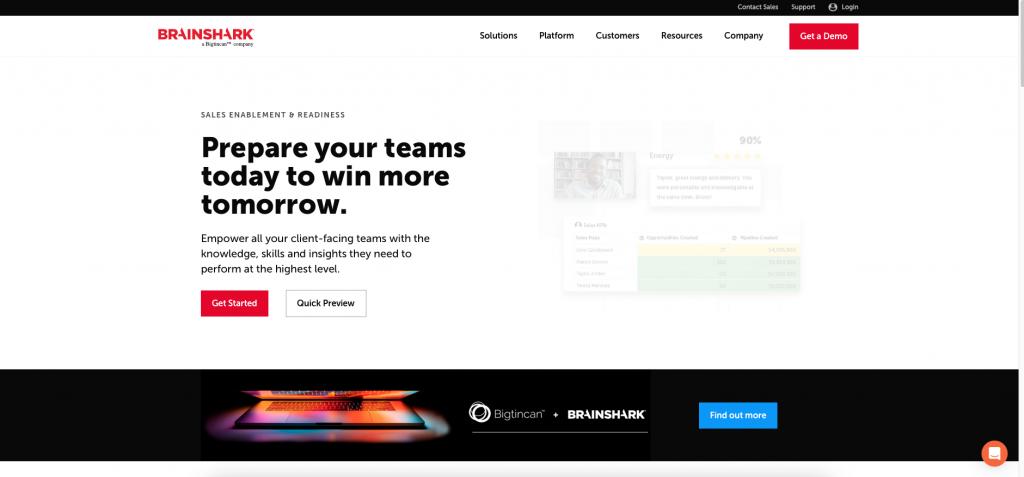 Brainshark is a comprehensive sales coaching platform that improves how your reps communicate with your potential customers. The tool lets you author engaging and interactive content and deliver it in formal courses. Brainshark is a must-have if you wish to improve the onboarding time of your reps. Brainshark also has a dedicated dashboard that lets you visualize your team's progress throughout the coaching journey, measure their sales readiness, and offer direct feedback. This way, you can close the skill gaps before they impact performance.
Pricing
Contact the Brainshark team for pricing details. Even though there is no free trial, there is a free demo that you can preview anytime.
G2 Rating
6) Ambition: Best coaching platform for 1:1 sessions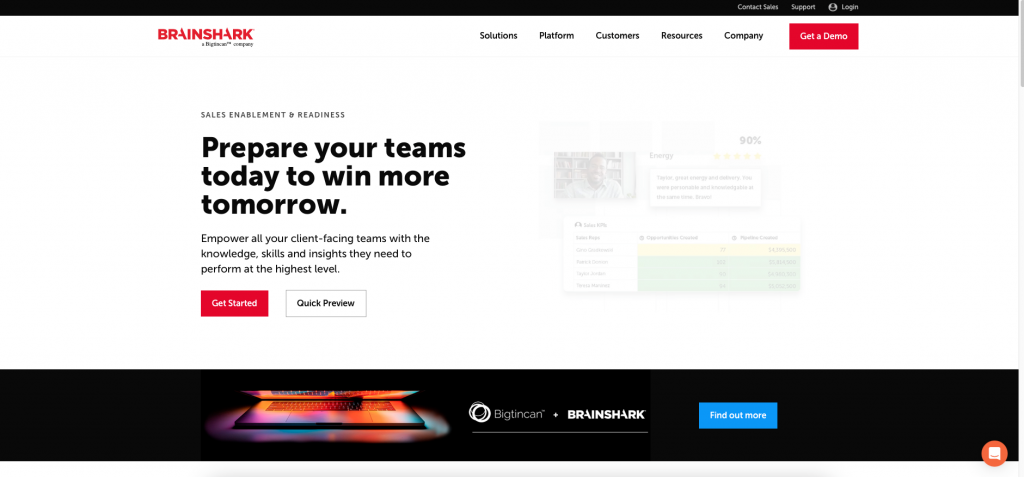 Ambition is a powerful coaching suite that helps maximize your team's performance. The platform lets you conduct 1:1 sessions with your team, ensuring total personalization in your coaching. You can even take public or private notes to aid your training plan. Ambition also automatically shares questions with your reps ahead of time. This will ensure that everyone in the session comes prepared. You can also use various coaching attribution metrics to monitor the progress of your program so that everyone in your organization is aware of how your coaching effort is positively impacting the reps.
Pricing
Contact the Ambition team for pricing details. There is a free trial available.
G2 Rating
7) Elearning Brothers: Best coaching platform for immersive learning experiences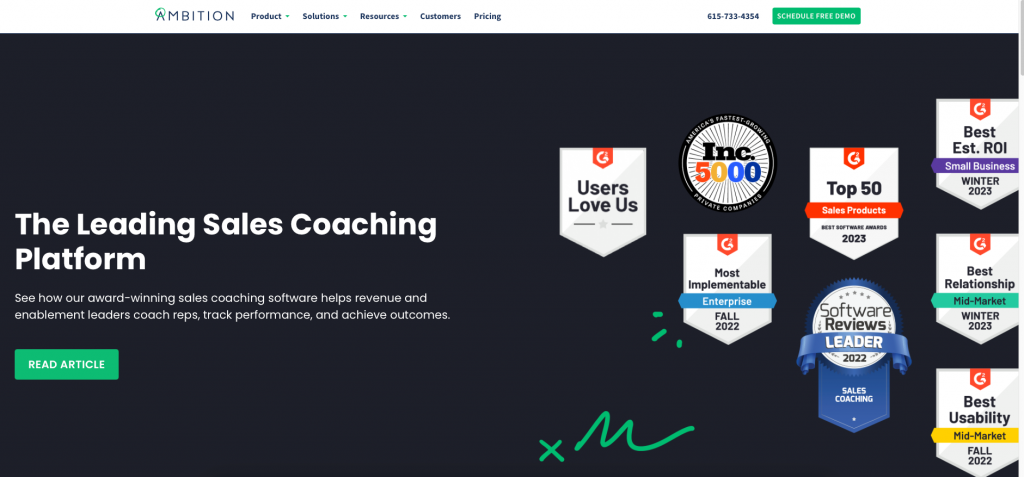 Elearning Brothers might not be a true sales coaching platform, but it finds a spot in this list for its unique offerings. As the name suggests, it is an e-learning software that uses cutting-edge technologies like Virtual Reality and various gamification elements to create more immersive learning experiences for your reps. Elearning brothers offers a suite of products and services that lets you automate various stages of your sales coaching lifecycle, right from content authoring to delivering individual sessions. The platform also offers a one-of-a-kind video-based practice module that lets you train your reps on communication and other soft skills.
Pricing
Contact the Elearning Brothers team for pricing details. Many of its key features come with a free 30-day trial.
G2 Rating
8) Second Nature AI: Best coaching platform for AI-based training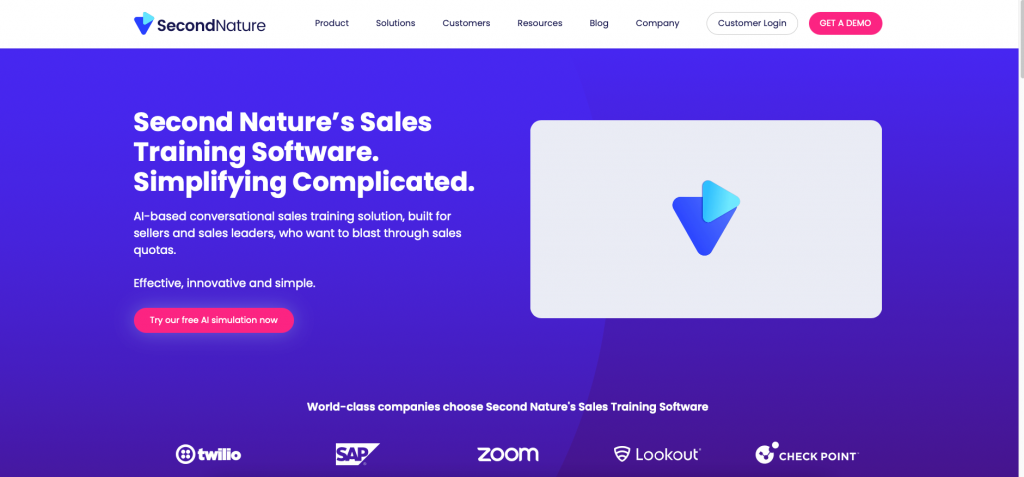 Second Nature AI is a perfect choice if you want to scale up your coaching quickly. The tool offers an interactive AI sales coach that can have live conversations with your sales reps. The AI coach can adapt based on previous talk tracks and your organization's sales playbooks. The platform even certifies the rep based on their performance to motivate them and make them perform even better. This creates an excellent training environment where your reps can practice whenever and wherever they want. They can make mistakes, learn and improve without impacting your organization's sales goals.
Pricing
Contact the Second Nature AI team for pricing details. However, you can try their free AI simulator anytime.
G2 Rating
9) Jiminny: Best coaching platform for automating the lifecycle of onboarding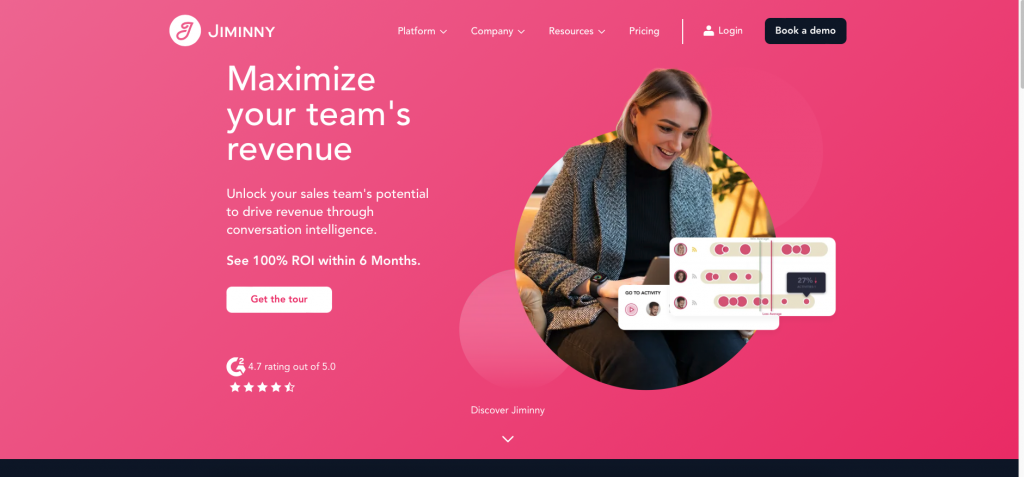 Like Chorus, Jiminny is a conversational intelligence platform that is extensively used for sales coaching. The wide array of coaching features offered by Jiminny ensures that your reps get onboarded quickly and start performing from day one. The platform also facilitates sharing best practices across teams and prioritizes the most urgent coaching needs. Jiminny also tracks metrics like Talk to listen ratio, listening skills, longest monologue, longest customer story, etc., to make sure that data always drive your coaching.
Pricing
The most basic plan costs $85 per month. There is also a free 14-day trial for all users.
G2 Rating
10) Sales Assembly: Best coaching platform for peer-peer learning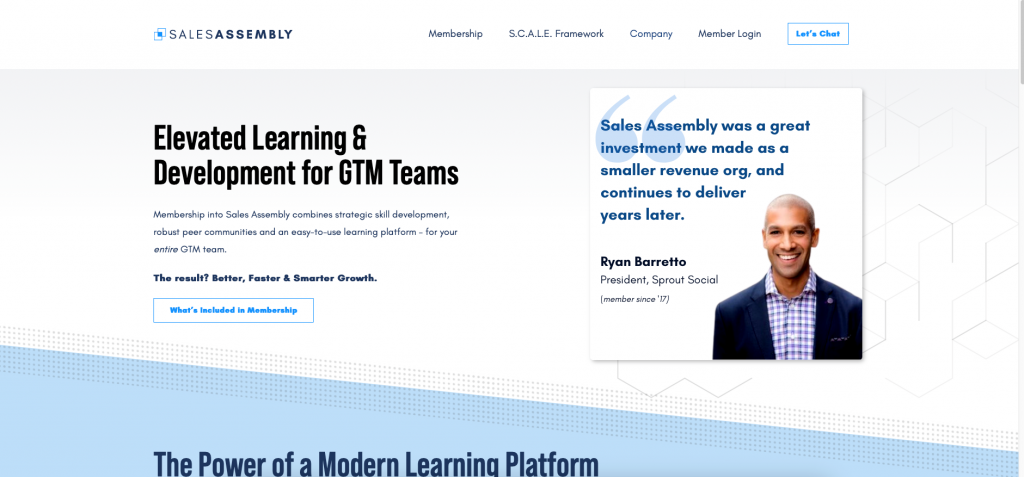 Sales Assembly is a learning and development platform that lets your reps learn from peers in the sales world. It also offers an expert-led training program for your reps in a robust ecosystem of networking and collaboration. Community-led coaching ensures every rep can put forth their ideas and learn best practices from other reps for all-around learning. This is possible through in-house forums and discussion groups curated by different sales roles and topics.
Pricing
The membership costs $30,000 for a year with unlimited seat usage. This means once your company becomes a member, any number of employees can access this platform without restriction.
G2 Rating
11) uQualio: Best coaching platform for video-based learning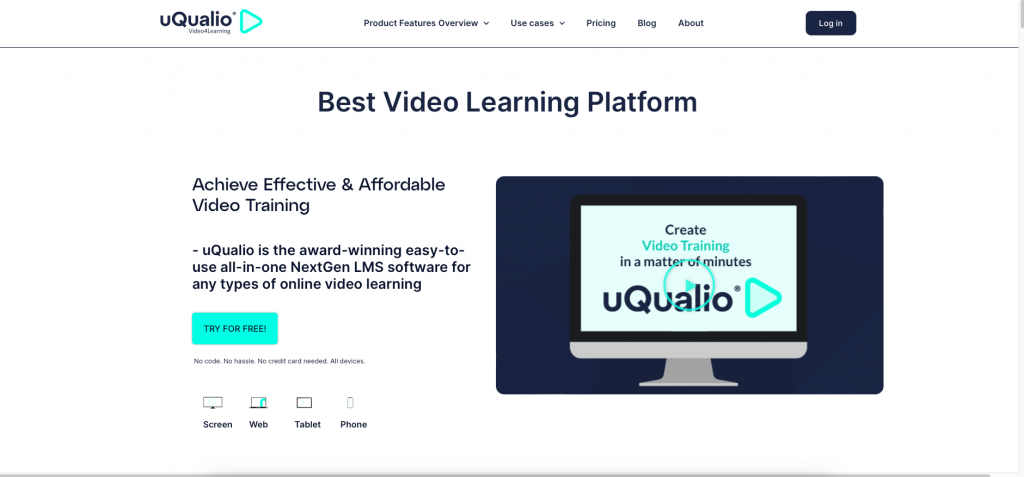 uQualio is a video-learning platform that can also be used for sales coaching. This cloud-based tool makes it extremely easy for you to create a video course in sales that can be made accessible to anyone on any device, 24X7. This easy-to-use platform can be fully customized to include videos, interactive quizzes, and supporting documents to make sure that your sales coaching is holistic. It also offers multi-language support and digital badges that can be shared across social media platforms.
Pricing
The most basic plan costs $19.99 per user per month. There is also a free trial available.
G2 Rating
Conclusion
The world of sales coaching is constantly evolving, and having the right set of tools at your disposal is essential to stay ahead of your competition. The 13 free sales coaching tools highlighted in this post are some of the best in the market. Whether you're looking to provide real-time coaching or analyze your sales calls, there is something for everyone on this list. By leveraging these free tools, your teams can enhance their skills, optimize their performance, and ultimately, drive more revenue for your business.
Check out the list of 15 best sales calls recording software
Check out the 15 AI Insights that can be extracted from the sales call recordings
A business analyst turned writer who loves to paint away his free time. A staunch follower of the 'Workcation' concept, he loves to combine the art of writing with the enigma of traveling.