In this post, we will look at the various steps you need to take to ensure that you successfully manage all your sales calls using the popular CRM – Pipedrive.
Calls are definitely a salesperson's bread and butter. If you're a salesperson, it's hard to imagine a day where you haven't seen at least one sales pitch. For some, it may be an obvious task. But it is difficult for others.
Novice salespeople often fail at sales presentations, not because they don't know how to communicate; This is because they don't know how to mine or use the information, they have to direct the call to their advantage. In other words, they are not making full use of their CRM when taking these calls.
Integrating Pipedrive with Cloud Calling Tool
There was a time when we had to look up a prospect's contact information in Pipedrive and then dial them manually with their business phone. Not only did this waste their time, but it also made it inconvenient to use two different devices to make a call.
By integrating Pipedrive with a cloud calling tool like FreJun, you can make calls directly. Your team can call the customer instantly without a manual number.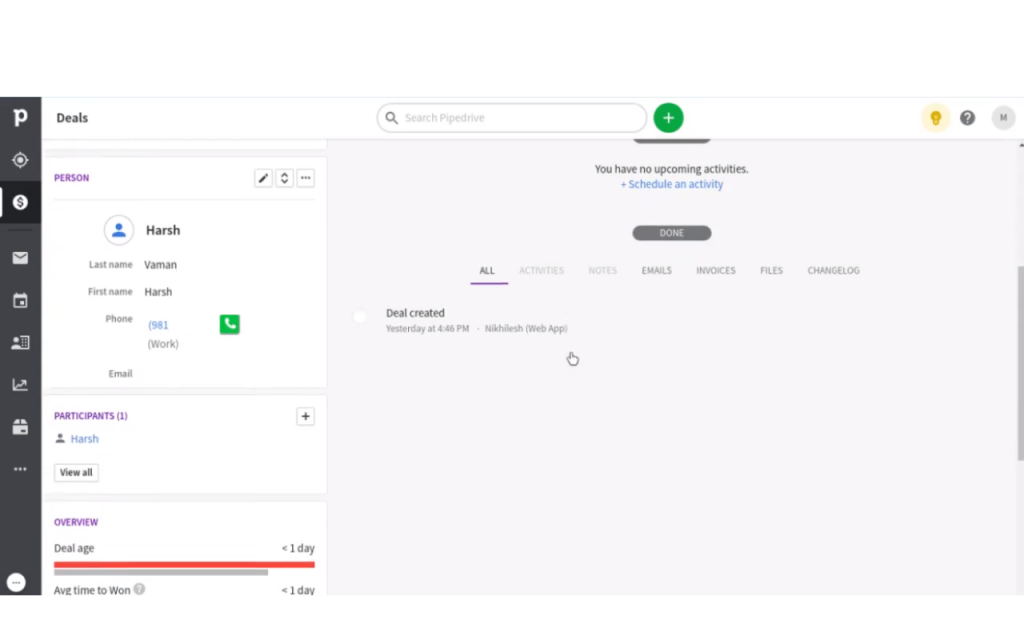 Installation and Setup (Steps)
Log in to your FreJun account
Go to the Integrations page, Settings > Integrations
Click the Connect button next to the Pipedrive integration
In addition to your convenience,you also enjoy the benefit of improved pickup rates all FreJun calls are verified by Google and Truecaller, most of them will not ignore your calls.
Pipedrive Features
Call : Make a call from Pipedrive CRM with one click. Just click the call button next to the phone numbers in HubSpot. FreJun takes care of the rest.
Call Recording : All incoming and outgoing calls are recorded within the contact activity for easy access and inspection.
Call Information : Users can add more information like call reason and call result to each call.
Daily Call Analysis : Managers receive daily call reports and analysis for training.
Pipedrive Benefits
Pipedrive integration FreJun makes calling from your Pipedrive account easy. All incoming and outgoing calls are recorded in the contact profile. Use this information to track sales, marketing and support progress.
Metadata such as call reason, call result and notes are added to contact activity in Pipedrive. This information can be used in conjunction with the call log to understand the context of the call and enable a smooth call.
Make your business fully mobile with calls from anywhere, experience high-quality calls and high recharge rates from the FreJun Android app, and record calls in Pipedrive.
Further :Pipedrive calling integration – FreJun
Update your CRM data regularly
It can't get this basic. A CRM filled with outdated or inaccurate data is nothing but a recipe for disaster. First of all, your salespeople are wasting valuable time calling the wrong number repeatedly if contact information is not updated.
If other prospect information is not updated and your sales reps use it on the next call, it can hurt your business. For example, one of your sales reps (for example, Sales Rep A) hasn't updated a specific customer request. When the next call is made, agent A is on vacation and is represented by agent B. Now, Agent B completely ignores the customer's request for a feature in the previous call and talks about something else in this call. This displeases the customer who will go ahead and make a deal with your competitor. To avoid such incidents, always update your CRM.
Pro Tip: Delete all contacts who have not answered your call at least three times in a row. It is likely that they have changed their number or no longer use it.
Track Everything
A CRM like Pipedrive cannot capture all this information about a call individually. But when integrated with FreJun, all these details are automatically recorded and saved. As an administrator, you will even receive regular reports showing how these indicators are developing throughout the day.
The importance of follow-up can never be overstated in the world of sales. As a salesperson, you need to know everything about your sales calls, from call volume to call results. This information will help you adjust and train your sales reps to drive better conversions.
Call Automation
Most of the mistakes you see every day are made by people. You will also notice that 9 out of 10 times the error occurred because the task was done manually. This also applies to calls. Common sales mistakes include talking to the wrong person, not scheduling calls, and not personalising the solution, to name a few. Most of these errors can be avoided by introducing automation.
For example, you can easily schedule calls on FreJun so that you are automatically connected to the person at the scheduled time. You don't have to worry about sending reminders or tracking call times.
Similarly, auto-dialling is another popular automation feature. This feature is very useful when your salespeople make several calls in a day, because it automatically punches several numbers in the CRM and connects you only when the contact answers the call.
Conclusion
If sales calls from Pipedrive often send you into a cold sweat, you're not alone. As long as you have the right strategies in place, you'll do just fine. Start by following the simple tips highlighted in this post.  Then continuously test different strategies and find out what works best for you. Apart from that, you can integrate Pipedrive with FreJun to extract the best out of the CRM. Get access to world-class features like auto-dial, analytics, reports, call scheduling, etc. Start your 7-day free trial with FreJun now. 
Further Reading: Make International Calling Easier With FreJun Integration In Pipedrive